Joined

Jul 23, 2013
Messages

1,655
Day 6 would mark our final day on the trail. There were no breathtaking and jaw-dropping views as we had been spoiled with over the last few days. There were no passes, no storms, no other major drama. Instead, there was much reflection and celebration.

Uinta Highline Trail - Day 6
Friday - August 19, 2016
Despite being the lowest elevation we would camp at (about 10,600 feet), our final night may have ended up being the coldest or close to it. There was more frost all over our gear and tent flies than any other morning of the trip. With only six, mostly easy going, miles that separated us from the car, we were in no rush to get going on this morning.
Before the sun could grace our camp, I got up to do some more wandering, take a few more photos of the pond and lake peacefully reflecting the world around them, and do some personal reflecting of my own.
Warming up and waiting for sunshine at camp
Reflection in pond next to Olga Lake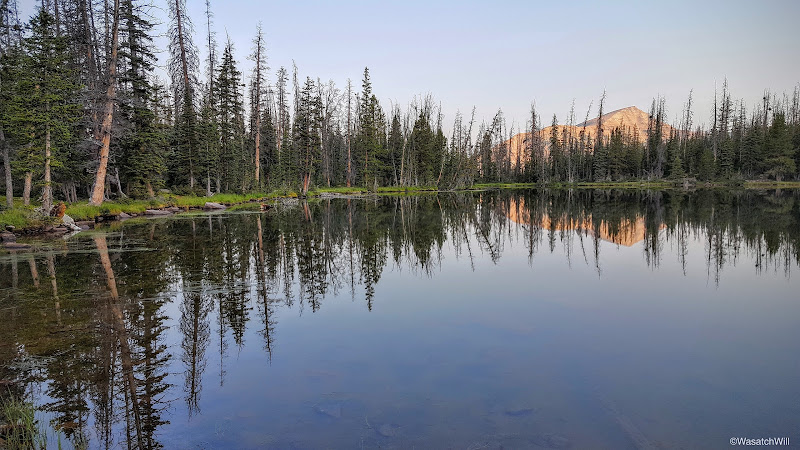 Reflection on Olga Lake
Panorama reflection on Olga Lake
Once the sun was out, we took our tents, sleeping bags, and any other gear that had been frost bitten or otherwise stood to benefit from a good sun bathing and spread them out to dry and/or air out while we took in breakfast. Once our gear was satisfactorily dry and so forth, we packed up and navigated our way back to the trail.
About two miles from camp, we would pass by the junction with the trail that leads up to Naturalist Basin. Having both been up to Naturalist Basin before, in separate trips, Adam and I were once again in familiar territory, walking a trail we had walked before.
The final six miles presented no major obstacles. There were no more passes to go up and over and no storms to wait out. There were only the typical stream crossings (some with boardwalks built over them) and an occasional log across the trail to go over or around. We never really took much of a break along the way, only pausing to take an occasional picture. There were few spots where the trees opened up to any big views above and beyond them. Otherwise, it was all about getting back to the car waiting for us at the Highline Trailhead at Hayden Pass.
Along the final miles of the Highline Trail
Mount Aggasiz
Bald Mountain through the trees
Scudder Lake down through the trees
Meadow with ridge that lies between Hayden Peak and Mount Agassiz (both out of frame)
Within a couple of hours, it was all over. We had finished the 75 mile journey we had started 5 days before. One of the bigger hikes on my ever growing bucket list of hikes was now checked off.
We got to become a little bit more intimately familiar with the high country of the Uintas. We got to savor the details of a number of beautiful basins and see how the evening and morning light can change their character. We got to take time to experience our surroundings with all of our senses.
We celebrated. We washed up and changed our clothing. Our mouths watering for something different than our usual trail fare, we loaded up in the car and made the drive down to Granny's Drive in Heber City for some much deserved burgers, fries, and shakes.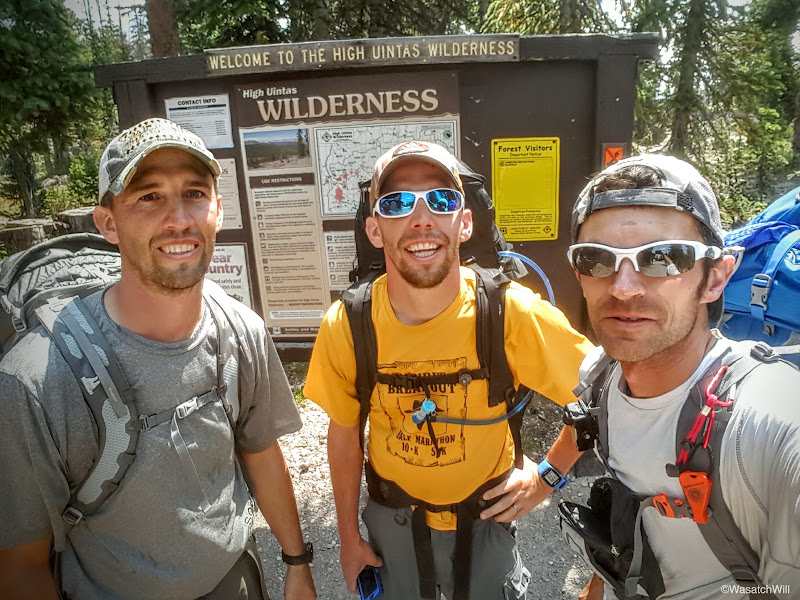 Adam, Steve, and myself at the end of the trail
The end of the trail
Granny's, a Heber City icon
More than satisfied, it was time to return to our families. We ended up meeting Jessica, my wife, in a lot in Orem where we said our goodbyes and she took me home. It was good to get back home and be with her and our kids again.
I'm thankful to Adam and Steve for inviting me to be their third wheel, as it were, on this trip. They were great company to hike with. In fact, Adam and I are now planning on making another trip up to the Uintas together this coming summer, where we are aiming to visit yet another area or two that neither of us have been to yet. Stay tuned for that.
In the mean time, I want to close this out by saying that I don't often use the word
epic
because I believe it should be reserved for describing only the greatest and grandest of adventures. That word fits this trip.
It was EPIC!
Video