Joined

Jul 23, 2013
Messages

1,650
Day 4 would be the longest and most exhausting day of the trip, yet it also proved to be as fulfilling as any. I was able to make a solo summit up Wilson Peak in the morning before reuniting with the guys to head down Porcupine Pass, cross Oweep Basin, meander through Lambert Meadow, and take shelter from a storm, followed by Red Knob Pass and setting up camp in West Fork Black Fork basin. As a group, we put in about 17 miles on the day, plus 2 more for me in the scramble up to Wilson Peak and back.
Uinta Highline Trail - Day 4
Wednesday - August 17, 2016
The combination of no sheltering trees, higher elevation (about 11, 400 feet), and clear skies proved to make the night the coldest one yet. I awoke before the sun could make it over the horizon, finding light frost to be scattered about. As mentioned in my
Day 3
post, the clothes I had washed the afternoon before had failed to dry out all the way. Putting on the damp clothing was a very cold and sticky affair.
Dawn at Camp - Day 4
Rather than wait around to cook up a hot breakfast, I packed up and hit the trail right away. Not only did I want to get my blood pumping to warm up, but neighboring Wilson Peak was on my to-do list for the morning. I invited Adam and Steve to come along the night before, but they decided they wanted to sleep in a bit and get a little extra rest after the big push up Anderson Pass and bagging Kings Peak the previous day. We ended up making plans to meet back up at the top of Porcupine Pass which happened to share the same ridge with Wilson Peak. Either they would wait for me if I wasn't back down from the peak when they got there or I would wait for them.
So it was breakfast-to-go for me in the form of a Clif bar and some trail mix as I hastily made my way up toward Porcupine Pass.
Porcupine Mountain (left), Porcupine Pass (middle left) and Wilson Peak (middle right)
North Star Lake
It didn't take long for me to start warming up and soon after, the sun broke free of the horizon to illuminate the upper basin. More importantly, it amplified the warming effect of just hiking. Within moments I was ready to take off my coat and beanie, so I paused to do so, and soon thereafter, the clothing I was wearing had completely dried out.
Closing in on Porcupine Pass
A few minutes further up trail I noticed some movement out of the corner of my eye. I paused again to focus my attention to it. There was a small herd of deer streaming across the slope to the north above a couple small reflective tarns. It's times like this where I wish I had a camera with a good zoom on it. Digital zoom on a cell phone camera just doesn't come close to satisfactorily capturing distant wildlife. Even without being able to zoom in on the deer for any worthwhile shot, the wider view was still certainly worth a picture. I took a couple pictures and just sat there soaking up the scene before me. Beautiful. Surreal.
This moment stirred something in me and I have to admit, I almost shed a tear. The stillness and calmness before me penetrated me with such emotion that almost made me weep with joy. It was truly a spiritual experience and fully encapsulated why I love being in the backcountry. Only the joy of those special moments with my family and other loved ones can surpass the kind of peace and joy I felt in gazing out at this landscape. Even if I failed to make it up to Wilson Peak, this moment alone made the early start all worth it.
Porcupine Tarns a.k.a "The Moment"
Not to be lost forever in that moment (though that might not have been a bad thing), I gathered myself and refocused my attention on the trail. As I got into the rocks and switchbacks nearing the top of Porcupine Pass, I found a few patches of flowers sprinkled about.
Porcupine Pass
Daisies
Mountain Harebells
Almost there
Soon enough, I had reached the crest of Porcupine Pass. I dropped my pack and took a few moments to rest while gazing out at the views on either side of the pass before gathering together a few items for my summit pack. Then it was up, up and up the east ridge.
Gearing up for Wilson Peak beyond the high ridge above
Gaining the high ridge didn't look like it was going to take so much effort, but looks can be deceiving. After a good bit of scrambling and a few class 3 moves through some pockets of large, jagged boulders, I eventually leveled out on the small plateau across the high ridge.
I must state here that my primary purpose for endeavoring to bag Wilson Peak wasn't just to put another "convenient" peak in the bag as it were, but to get a glimpse of Red Castle which sat across the other side. I have yet to take a trip up to the ever-popular and well-known red-faced landmark along the Uintas' North Slope.
Arguably the crown jewel of the North Slope of the Uinta Mountains, Red Castle gets its name from being a large and unique jagged formation that consists primarily of shale, quartzite, and sandstone rich in hematite (iron oxide), the source of its reddish hue. I was determined not to let myself pass by so closely to Red Castle without at least getting a glimpse of it. In studying out a map, I concluded that Wilson Peak and its accompanying ridge line was the best place off of the Highline Trail to offer just that.
Almost immediately upon gaining the high ridge with a good distance left to go to get up on Wilson Peak, I was rewarded with what might be the best view down into the Red Castle basin from along the ridge. Red Castle itself, Red Castle Lake, and Upper Red Castle Lake were all visible.
Upper Red Castle Lake (left), Red Castle Lake (center), Red Castle (right)
At this point, with my main objective of looking down upon Red Castle accomplished, I could have turned back and been fairly satisfied, but Wilson Peak still stood looming down the ridge to the east. Eager to add that feather to my cap, I kept course and pursued the peak.
The ridge to Wilson Peak (center left), Kings Peak visible on middle right horizon
There was a point where it looked like the ridge might turn into a bit of a knife edge requiring some scrambling along a steep scree field beneath to avoid it, but as I said above, looks can be deceiving. It turned out to be relatively mellow and easy going most of the way across with just a few more minor class 3 moves along the way. Such moves could probably have been avoided had I continued to walk the top of the ridge, but there were still a few spots I opted to go a little lower due to a lingering fear of heights that emerges each time I get too close to such an edge. The other side of this ridge presented a sheer vertical drop of 500 feet at one point just prior to the final ascent to Wilson.
At last, I couldn't go any higher and found myself atop Wilson Peak, once again peering down at Red Castle.
Selfie atop Wilson Peak
Upper Red Castle Lake and Red Castle from Wilson Peak
Wilson Peak Panorama (Kings Peak visible at far right)

Wilson Peak 360 Panorama
After a round of pictures and taking in the views, I returned back down to Porcupine Pass where Adam and Steve sat waiting. Once reunited, I asked how long I had kept them waiting.
"Only about 15 minutes," was the reply.
I'd say the timing was pretty good. Of course, they weren't bored with the view down into what many call "Oweep Basin" due to the closest feature with a name on the map down in the lowland being Oweep Creek, the primary creek that drains the basin.
I reclaimed my pack and down we went.
Looking down into "Oweep Basin" from Porcupine Pass
Porcupine Pass Panorama
Looking back at Tungsten Pass, Tungsten Lake, and North Star Lake from Porcupine Pass
Descending Porcupine Pass
An expansive landscape with Adam and Steve in the distance for scale
Looking back up at Porcupine Pass
Adam and Steve progressing down "Oweep Basin"
South Porcupine Mountain
Stone Benchmark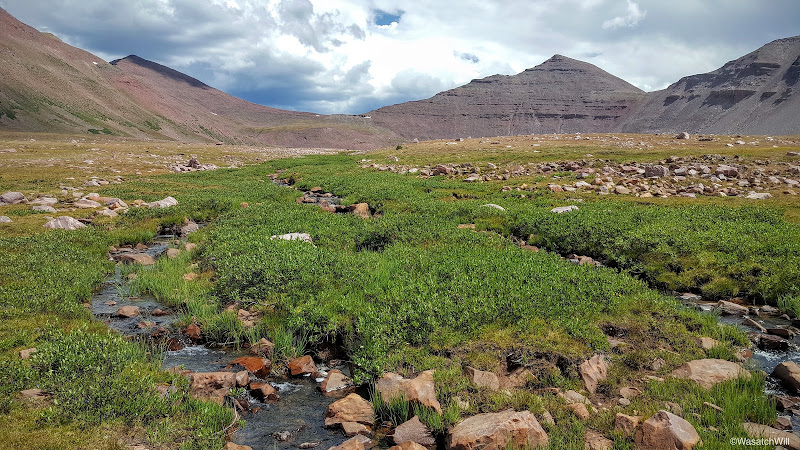 Tributary of Oweep Creek below Porcupine Pass (upper right)
Another cairn showing the way
Still going
Horseshoe hanging in "Oweep Basin" with Oweep Peak off to the right
As we were descending down off Porcupine Pass we saw another group of four that had descended down from the saddle to the northeast that separates "Oweep Basin" from the basin that holds Red Castle and its lakes. They reached the lowland sooner than us and thus stayed some distance ahead of us as we followed in their footsteps toward the crossing of Oweep Creek. They were moving at a pretty good pace and it was easy to see why as they were just close enough to see that they were each sporting some Hyperlite Mountain Gear (HMG) packs. Storm clouds were brewing out to the northwest and we were eager to get down to the trees. I could only assume the group ahead had the same thing on their minds.
Approaching the tree line and closing in on Oweep Creek down in the trees beyond
It wasn't until we reached Oweep Creek that we caught up with the group where they had stopped to filter some water. Unfortunately they were having some issues with some Sawyer Squeeze bags breaking open and were left improvising a way to overcome it.
We chatted a little bit and found out they were in the middle of 10 day trip where they had been pioneering a more adventurous and primitive traverse along the crest of the Uintas, linking up some of the central basins with a focus on the most iconic northern basins.
We did not exchange names however, so it was only after catching up on my Instagram feed and reading some posts here on the BCP forum after getting back home from the trip that I discovered the group was being led by forum member, Dan Ransom (
@Dan
): a fantastic wilderness photographer who is intimately familiar with much of the Uinta Range.
Little did Dan know however that just two days later, he and his group would play a key role in solving the 5-year-old mystery of the Austrailian hiker, Eric Robinson, who had gone missing while hiking the Highline in the summer of 2011 and had never been located.
Dan would go on to write up his experience with the discovery of Robinson's remains for the National Geographic:
http://www.nationalgeographic.com/a...backpacking/missing-hiker-remains-found-utah/
It's all a stark reminder of just how unforgiving the terrain and conditions can be in the Uintas, no matter the season.
Video still of Dan and company working out filter problems at Oweep Creek
After the brief visit at Oweep Creek we pushed on further down the basin until we took refuge from an afternoon shower down in a thicker stand of trees where we decided to break out lunch just a short distance off the trail. During this time, Dan's group would pass on by.
Looking back at Steve and the Porcupine ridge
The storm arrives
Once we were satisfied and the rain let up, we moved on down to the next stream for a water refill and then set our course for Lambert Meadow and beyond. We ended up leap-frogging what I assume was Dan's group one last time when they pulled off to huddle up in their HMG Ultamid in some nearby trees along the trail. My guess is that they too had opted to break for lunch while sheltering themselves from the rain.
Having passed the trail's low point through the basin, we were back on the ascent. Gradually, we gained the bench wrapping around a southern spur of Lambert Peak where we were treated to another scenic jewel of a tarn. From there we continued on around the bench to where we could see across the Lake Fork River basin where Explorer Peak rose prominently in the distance before we passed by Lambert Lake.
Emerald colored tarn along southern spur of Lambert Peak
Rounding the bend for Lambert Meadow, Explorer Peak seen prominently in the distance
Once we reached Lambert Meadow, where a southern spur of Mount Lovenia towers above it, we paused to top off our water bottles once more at the crossing of the stream that gently flows through the meadow.
Lambert Meadow
Stream in Lambert Meadow
After Lambert Meadow, it was time to descend down to the Lake Fork River where the trail would lead us northward and upward to Red Knob Pass.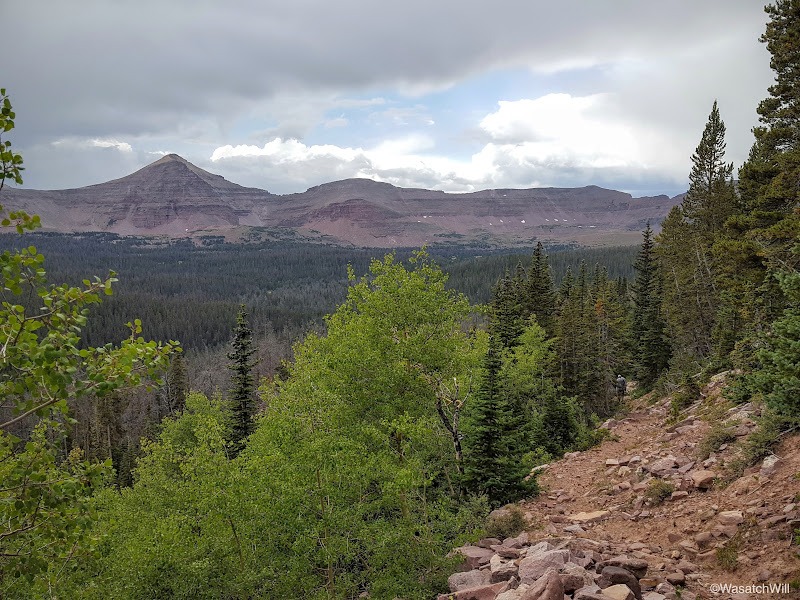 Descending to Lake Fork. Explorer Peak on the left horizon.
Trail junction at Lake Fork River
Small meadow beneath Mount Lovenia
Rain began to fall again and then developed into some hail. We tried to ride it out as long as we could but eventually holed up inside of a small stand of trees before the tree line receded and right in the company of the resident herd of sheep.
While we were prepared to make camp right there in upper Lake Fork Basin as our original plan had called for, it was only mid-afternoon and we had high hopes making it yet another two-pass day with Red Knob Pass and get ahead of schedule in doing so. So we sat, observing the weather, looking for any break in the storm along the surrounding horizon.
Several minutes thereafter, hope was restored. It looked like the storm was staying on a southeasterly track due to an expanding blue sky to the north and west. That meant Red Knob and beyond would soon be in the clear. Sure enough, minutes later, the massive amphitheater that surrounded us was illuminated in sunlight and the tail of the storm quickly passed over.
We only had to wait out the storm for about a half hour before we emerged under sunny skies. Mount Lovenia was all aglow in red. I half expected to see a vivid bright rainbow develop, putting an exclamation mark on the landscape, but such would not avail itself to our eyes.
View of Mount Lovenia (left) from where we waited out a storm, after the storm
We had ourselves a good stretch and set some things out to dry a bit while we topped off our water once more from the nearby stream. Soon enough we gathered up our packs and began to move up to Red Knob Pass.
Navigating through upper Lake Fork Basin toward Red Knob Pass
Looking back toward Explorer Peak (left)
Approaching Red Knob Pass (far left saddle)
Looking out at Explorer Peak (left) and Meadow Peak (right) while ascending Red Knob Pass
Red Knob Pass did not look like it would be very tough from the south side, and in other circumstances it probably wouldn't be, but with all the miles we had already hiked that day with our packs, it was bit of a chore. Once at the top however, we were richly rewarded with another round of amazing views including that of the West Fork Black Fork basin where Dead Horse Lake sat and the Highline's infamous Dead Horse Pass above it which awaited our arrival the next day. The only downer was that the sun was now too far to the west to keep the western end of the basin within its light. Instead it was all hidden in its own shadow.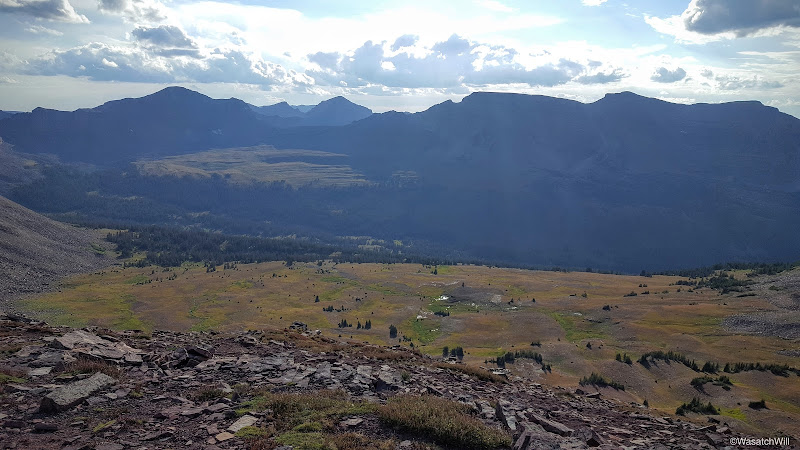 Gazing out at Dead Horse Pass (left) and Allsop Peaks (right) from across West Fork Black Fork
View down the saddle of Red Knob Pass at Meadow Peak (right) and Explorer Peak (left)
Red Knob (middle left) with Mount Beulah (far left) and Mount Wapiti (right)
The view south down Lake Fork from Red Knob Pass
Mount Lovenia and Lake Fork from Red Knob Pass
Red Knob Pano #1
Red Knob Pano #2
Red Knob Pano #3
Adam and Steve recharging atop Red Knob Pass with Red Knob Peak above left
After an extended and well deserved rest, we descended on down into the West Fork Black Fork basin, motivated by the knowledge that we'd be setting up camp for the evening after another mile or two down in the trees below.
Beginning the descent down Red Knob Pass
Panorama looking up at Red Knob Pass from beneath Red Knob
Looking up at Red Knob Pass from beneath Red Knob
While there are stories and lore concerning Dead Horse Pass, the one we were bracing ourselves to tackle the next morning, the descent down Red Knob was surprisingly scarier for me. The trail was very narrow and somewhat eroded in spots where it would have been all too easy for one foot to hit a loose patch of gravel or twist an ankle over a rock and then have your pack's momentum send you tumbling down a couple bands of 50+ foot cliffs lying in wait below. It certainly required as much focus and careful footing as any other stretch of trail throughout the whole trip. Fortunately, we all made it safely down without any such incident.
Finishing off the last of the descent from Red Knob Pass
Sizing up Dead Horse Pass from across West Fork Black Fork
Looking north across West Fork Black Fork at Mount Belujah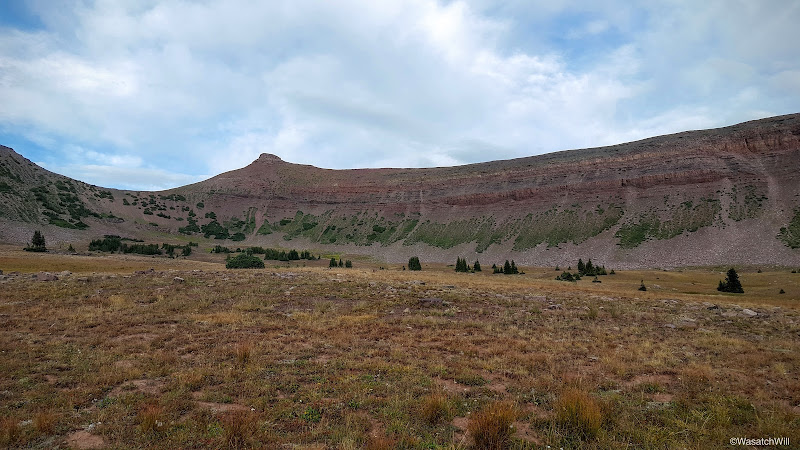 Looking back up at Red Knob Pass
Passing under Meadow Peak
Less than a mile later, we found a cozy camp site nestled down in a small flat where Meadow Peak dominated the view to the north. Bathed in alpenglow, it was spectacular.
Day 4 camp beneath Meadow Peak
With camp all set up, I wandered off into the surrounding areas as I typically do to see what could be seen before all light was lost. First, I went back up to the trail and up a little rise above our camp to catch some more alpenglow sweeping across the ridge up to Dead Horse Pass. From there it was back down through camp and to the south for views of Mount Beulah and the setting sun behind North and South Allsop Peaks.
Dead Horse ridge hiding behind the trees
Looking down West Fork Black Fork with Mount Beulah to the left
Sunset over South and North Allsop Peaks
I returned to our campfire where we reminisced on what would be our longest day of the trip at 17 miles, plus 2 more for my side trip up to Wilson Peak, before retiring for the evening. Dead Horse Pass now stood to the west, ready to summon us the next morning.
Video