Joined

Jul 23, 2013
Messages

1,655
Among the adventures at the top of my bucket list has been the Uinta Highline Trail (UHT). An attempt to do it in 2015 with
@Blake Merrell
fell through (we resorted to a
pleasant trip
up Middle Basin of the Uintas). Due to the logistics involved with a long drive to the eastern end of the Highline Trail, it can be difficult to arrange a shuttle, even from local loved ones. When Adam a.k.a
@Parma
added the UHT to his August 2016 plans, made such a shuttle arrangement with a neighbor, and reached out and invited me to join him and his brother, Steve, I was thrilled.
Note: Usually I post a whole trip into one report. With this trip, I opted to make a separate report post for each day. I took that many pictures!! I also came up with enough commentary to balance them out that it would have been enormous to post a trip report any other way. I took some time over the last week to finally finish off each day's report on my blog and will now be cross-posting and adapting them here on BCP. Because I don't want to overwhelm and hog up the front page sliders, I'm thinking I will spread them out by only posting one or two day's worth of reports each week. Or, if you don't have the patience to wait for them here, you can jump ahead to my blog and read through all the reports at once.

Adam also posted a report of his own with his own pictures much sooner after our trip which can be found here. As I've made my own reports of this trip, it's been fun to relive it in the middle winter. I've already got the itch for summer to get here again.
So with that all said...here we go...
Uinta Highline Trail - Day 1
Sunday - August 14, 2016
After being picked up at my place, we began the drive on up to the West Fork Whiterocks Trailhead. Many people will begin further out at Hacking Lake and Leidy Peak, but that would have required an extra day we didn't have. Many other people will make Chapeta Lake their starting point, but since West Fork Whiterocks was just off the same road that takes you to Chapeta, it allowed us to start hiking much sooner than if had we continued on up to Chapeta. So, we justified making that our terminus. Also, the overall hiking mileage of the trek had minimal difference with starting at Chepeta, so we did not feel that we were cheating ourselves out of any miles.
After almost 4 hours of driving, we arrived at the trailhead.
West Fork WhiteRocks Trailhead Register
Not long after starting out, the trail split into two: One for backpackers and one for horses. I can't help but call it
trail segregation
.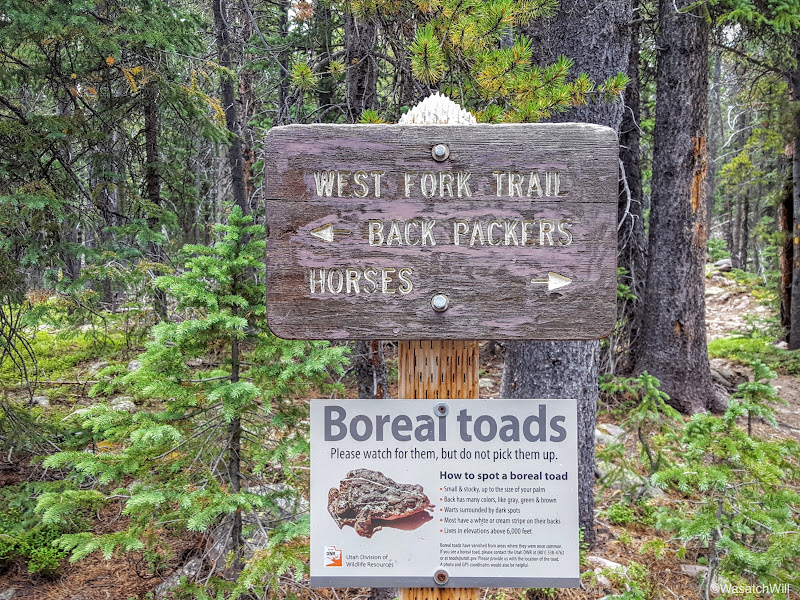 Trail Segregation
Despite the area we were hiking through being called West Fork
Whiterocks
, the trail took us over a long section of boulders that were much more green than white, due to all the moss growing on them.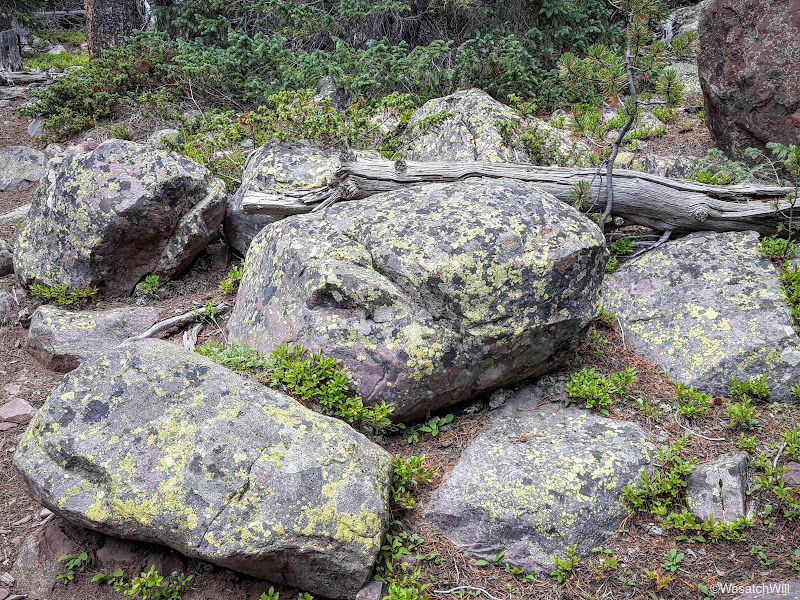 "Greenrocks"
Eventually the trail led us into some clearings and big wide open meadows that gave us a great view of Cleve Peak and later a view of Fox Queant Pass, the one pass we would cross over that day.
Cleve Peak
Cleve Peak from across an unnamed lake
Looking southwest from the trail
Cleve Peak across a pond with Fox Queant Pass at the right edge
Looking out at Fox Queant Pass (center) with Cleve Peak to the left
Meandering West Fork Whiterocks River
We continued on, until after 4.5 miles from the start, we reached Cleveland Lake. Here, we took a break and refueled with some snacks.
Cleveland Lake with Fox Queant Pass (background)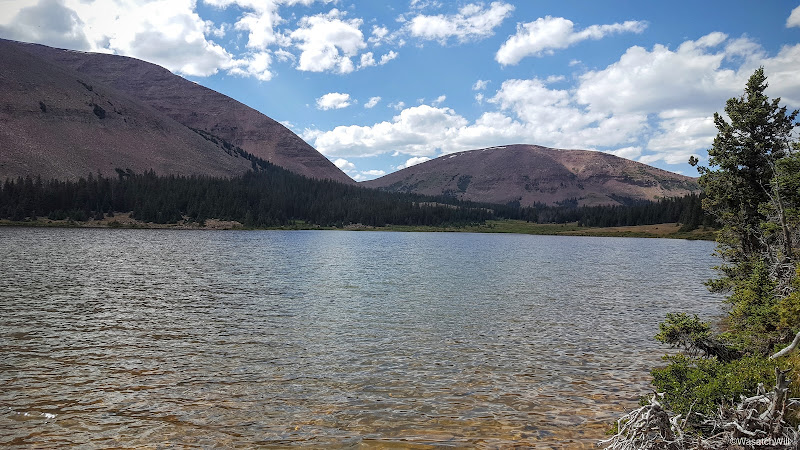 Cleveland Lake with Fox Queant Pass (background)
Cleveland Lake with Fox Queant Pass (right background)
After our break, we continued on up trail for approximately another mile and a half at which point we began the half mile ascent up Fox Queant Pass.
Looking up Fox Queant Pass
Adam and Steve making their way up the pass
Adam and Steve, camouflaged with the rocks
A tarn near the top of the pass
Looking back down from the pass across the tarn into the West Fork Whiterocks basin
Once at the top of the pass, we took a quick breather and took some obligatory photos. Fox Queant Pass is called so because there is a lake named Fox Lake on one side of it and Queant Lake on the other. Queant Lake lies just over a hill from Cleveland Lake. It was Fox Lake that lied over the west side which would be our destination for the night. In fact, Fox Lake became visible right when we crested the top of the pass. The top of the pass also marked our entry into the officially designated High Uintas Wilderness Area.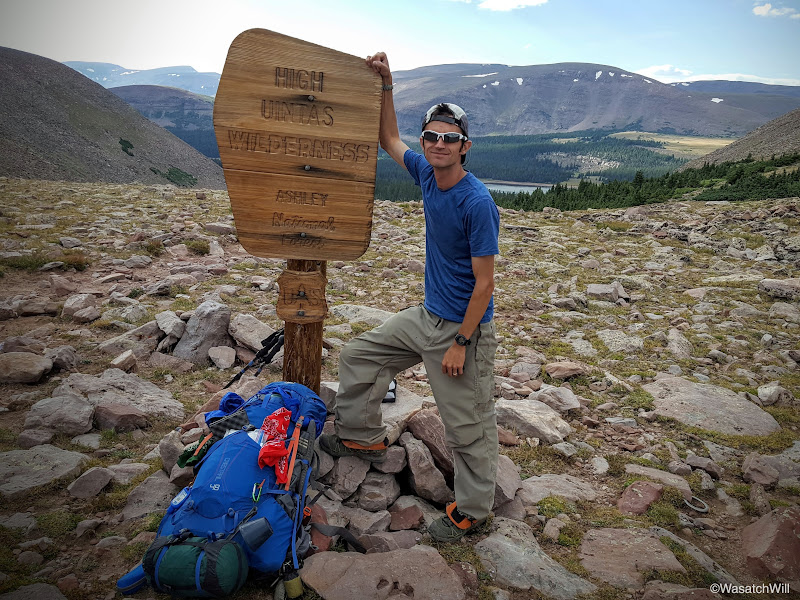 Me, at the top of Fox Queant Pass
Looking down at Fox Lake from the top of Fox Queant Pass
After a little over a mile and half of descending the pass, we arrived at the shores of Fox Lake.
Fox Lake with Fox Peak to the right
After around another half mile of hiking along the shore, we arrived at a trail junction where we captured the official Uinta Highline Trail, the trail we'd follow for the rest of our trek over the next five days.
Highline Trail Junction at Fox Lake
Highline Trail Junction at Fox Lake
Near the junction lies an old cabin of some sort. My best guess was that it was built to serve as a shelter for sheep herders, but upon further
research
, it was simply built by construction workers to shelter them as they built up the dam at Fox Lake. The Fox Lake dam is the result of a historical attempt to preserve and capture late summer water from the Uintas for irrigation purposes.
Old 'Fox Dam' Cabin
Old 'Fox Dam' Cabin
Not far from the cabin, we set up camp for the night.
Day 1 Campsite
With camp all set up, I wandered back out to the shores of Fox Lake and snapped a few more pictures.
Alpenglow on Fox Peak (center) across Fox Lake with Fox Queant Pass (right)
Fox Lake Panorama with Fox Peak
Fox Lake dam structure
As the night fell upon us, we commenced the nightly tradition of gathering around a fire and cooking up our dinners. Weather treated us well throughout the day making it a great start to what would be a fantastic trek.
VIDEO:
Last edited: