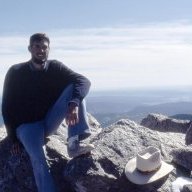 Joined

Feb 1, 2014
Messages

412
Being a structural engineer has made me a fan of iconic buildings. I passed through Colorado Springs recently with a nephew who is in the Air Force. He said that he's frequently on flights with other crewmen from the "Little Technical School in Colorado". He wanted to stop and see it so we did. I was amazed how people's attitudes would change in a positive way whenever we were asked to present some I.D. and he would produce his active duty Air Force credentials. Anyway, we spent most of our time at the famous Chapel. It was the first time I had ever been there. I think I would have to put it in my top 10 best buildings I've ever been in. If you ever get the chance I think it's worth the trip.
The Protestant Chapel section looking forward.
The Protestant Chapel section looking back.
The Catholic Chapel section
Station of the Cross. I overheard a tour guide saying that the stone for the sculpture came from the same quarry in Italy that Michelangelo used for the Pieta.
The Jewish Chapel section
There are also Muslim and Buddhist Chapel sections but those were closed when I was there.
Last edited: