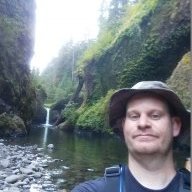 Joined

Sep 18, 2017
Messages

133
I don't see a lot of mountain bike TRs on this site, but I have been thinking that I need to make more of an effort to contribute here. Hopefully you guys won't mind a short report of a little two-wheeled adventure.
Morning 1 – 4/27
I arrived at the TH just as dawn was breaking. This is a popular trailhead, so I wanted to get an early start. I geared up and hit the trail. It was a beautiful morning and it felt great to be out. After some pedaling through pine forest, the canyon opens up a little.
Sunrise over the Wasatch
As the trail moved back into the scrub oak, I came upon some wildflowers
About halfway up the trail is a popular lookout. Most visitors turn around here. I have found that continuing almost always offers great rewards and I was happy that I had time this morning to keep pedaling up. A few bends past the popular turn-around and I bumped into this guy:
Bull Moose – if you look closely you can see some velvet covered beginnings of antlers
After hanging with Bullwinkle for a bit I proceeded up the trail and came to a downed tree.
I was glad this pine decided to snap off up high and keep the trail passable.
The next downed tree I came to wasn't so considerate. There appeared to be a good deal of snow past this point, so I decided to turn around.
End of the line
Snow
On the way down, I enjoyed the downhill ride and didn't stop for many photos, but I did snap a couple:
Salt Lake valley seems much more peaceful from up here.
Morning 2 – 4/28
Morning 2 started out in a similar fashion to previous morning. It was very mild, but a little windy. Again, I arrived at the trailhead at first light. Today, I decided to take a trail that followed along the foothills of the Wasatch.
Here is a shot looking back towards Ben Lomond from near the beginning of the trail:
The trail proceeded south, and I eventually found myself on the hill above my alma matter.
Go Wildcats!
The Purple Palace with Antelope Island in the background (left)
On the return trip I was treated to some more great views of Ben Lomond
Day two was less eventful, but fun none the less.
The distance over both days was about 24 miles with a climb/descent of around 3600'.