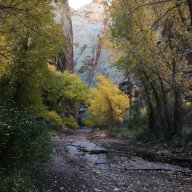 Joined

Mar 27, 2015
Messages

165
Last summer me and some friends went on a road trip that started in Utah and went up to Crater Lake National Park. From Crater Lake we worked our way down through Northern California to Lake Tahoe. The last stop was supposed to be Great Basin National Park, but by the time we got there all the campsites were full. So these next two trip reports will be in the reverse order of the trip.
We did spend two days in Lake Tahoe, but it wasn't very exciting. I know there is more around that area to do than just sit on the beach. Unfortunately while we were there, the people in my group just wanted to was sit on the beach so that's all we did there.
Before that we spent two days in Lassen Volcanic National Park. I didn't even know that it was a National Park until I found it on Google Maps. After we were done at Crater Lake we drove down into California to visit the Park. We camped at the Manzanita Lake Campground. The campground was packed with people. (The picture below was of our campsite).
I thought for sure that with that many people all the trails would be full. That wasn't the case. We found that most of the trails were very empty. It seemed that most people that were there, were there for the little lake by the campground. Our first night there we walked around Manzanita Lake.
The next day was when we did most of hiking. The first hike we did the next day was to a little lake called Crags Lake. It was more like a pond, but it was still worth the hike.
We didn't see any other hikers until we started hiking back. It was a nice place to relax and take some pictures. After Crags Lake we headed back to eat some lunch. Next we went for a quick hike around Summit Lake.
After Summit Lake we headed back to camp for the rest of the evening. While we were there most of the park was still closed because of snow. We went with the intention of hiking Lassen Peak, but it was still closed because of snow levels. They had the road gated off, so we weren't able to access the southern half of the park. Because of that we weren't able to get as much hiking in as we had planned. It was nice place to stop and check out though. Maybe one day I will be able to get back when more of the park is accessible.