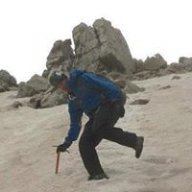 Joined

Aug 18, 2014
Messages

20
After scoping out Twin Peaks during a Broads Fork afternoon hike a few weeks back, I came back on Sunday morning to attempt it. And while my route finding was far from perfect (or efficient), I made it to the top and was rewarded with a summit all to myself and beautiful views from all angles. This hike has it all -- a long, scenic approach; flowing streams throughout; snow & boulder filled upper bowl; beautiful ridge line; class 3 scrambling; and beautiful views throughout. You definitely have to earn 'er but totally worth it.
I got off to a late start due to my severe coffee addition and preference for over-priced lattes on Sunday mornings and by the time I got to the trailhead, the main Mill B South parking lot was full. Luckily, the other lot had plenty of room and I avoided parking on the road along the S-curve.
At a little over 2 miles and 2,000 vert feet, the hike up to Broads Fork meadow is the perfect balance of scenery and "warm-up" physical exertion to get you started on the right foot.
After about a mile in, you come to a wooden bridge crossing Broads Fork.
Continuing up to the meadow, you pass through a beautiful set of Aspen trees. What does one call a "grouping" of trees? A group? A set? A gaggle?
Arriving at the meadow (about 8,200 feet), you can finally appreciate the options ahead of you. Dromedary, Sunrise, and the twins dot the skyline. I imagine a lot of people camp at the meadows although I didn't see anyone during this trip.
From the meadow, you'll want to take the trail heading toward the large pond to the left. You'll cross a "bridge" that has definitely seen better days but gets the job done and start heading up to the upper bowl.
As you'll see with my GPS tracks below, I didn't take the "easiest" path up even though there is a clearly marked trail ..... and by "clearly marked", I mean it became abundantly "clear" to me on the descent.
Soon the saddle between the Twins and Sunrise will become visible and you start the real work. There was still quite a bit of snow in this section but I don't think I'd want less ..... the prospect of a boulder field for this section would have made travel worse, IMO. With that said, a pair of yak-traks made the steep sections much easier.
I hugged the right hand edge, which required a bit more scrambling than necessary ..... it seems that most people choose a section of snow that ran right up to the ridge because .... well ..... that's probably the most efficient path. I, on the other hand, apparently prefer the more difficult / inefficient approaches.
The saddle gives way to some beautiful views into Little Cottonwood and a perfect place to rest and consume some calories.
This is where the scrambling begins ....... although if you follow my approach, there was plenty of it up to the saddle. I dropped down on the south side of the saddle about 100 ft or so and followed a lose set of cairns taking you to a snow couloir / chimney. Here, you climb up a hundred feet or so back to the main ridge.
Once back on the ridge, it's a straight-forward switch back trail to the summit.
Views for miles in each direction --- absolutely stunning
The descent was pretty straight-forward .... although I attempted to drop in a bit early and had to backtrack back to the ridge for another 20 mins "detour". I'm a slow learner, folks.
H20 fill-up on the descent
I ran into a rattlesnake in the meadows on the way down and he quickly made it clear that it was HIS trail, not mine. That was my first rattlesnake encounter and despite my fatigued legs, I jumped high enough to clear a standard automobile. That rattle is distinct sound I will never forget ...... but didnt deter me from turning around and taking a picture after I collected myself.
GPS showing my tracks (kind of .... too large for a single pic)
Featured image for home page: