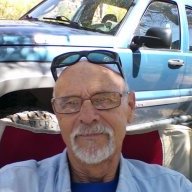 Joined

Sep 17, 2012
Messages

94
My friend, Guy, from NM and I went through Tusher Canyon the first week of November to look for more rock art he had found in the area a couple years ago. He wanted to travel a road he had seen earlier but didn't drive as well.
My trusty guard dog... no need to set my door locks
A few rock art panels along the canyon
We popped out of the canyon and soon after we came full on with this magnificent animal. He wasn't all that concerned of our presence.
After an hour or so, we saw a hunter coming out of a side canyon and we showed him our pictures of the ram. He calmly said it would have been a nice price but is slated for another time.
We continued on and road progressively got narrower (ATVish). About a 1/2 hour later, the road "ended" at a side hill that had sloughed off. But it was a great location for some good pictures of the Green River below
The sun was getting pretty low so we hung around a little while longer to get a good sunset picture
It was a great way to end the.... END!
Well, almost anyway... we made back to GR to REALLY end the day at RAY'S!!
Featured image for home page: