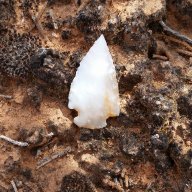 Joined

Feb 8, 2012
Messages

510
My wife and I took a 2 week vacation to Norway last summer to celebrate our 25th anniversary. A few days after arriving we had made the drive over to the base of the hike and checked into the airbnb that was literally a few steps from the start of the hike. We were able to leave our car at the house while we hiked and as it wasn't much more than they charge to park in the main parking lot. We got up at 4:45 and were out the door at 5:15. There is a road that they allow 20 cars to pay to drive up and cut a few miles and 1,200' off the hike. There is also a shuttle that lots of people take. They were not supposed to open the road until 7, and I was surprised to already see 20 cars sitting there waiting. The shuttle doesn't start until after that at some point and it just drives up and down as people show up. We were here to hike, so up the road we went. It is paved and easy to follow in the dark. I was a little bummed that it was overcast and drizzling out, I was looking forward to the views I had seen from other peoples photos. We were almost to the upper parking lot when we could hear cars starting to drive up, they must have opened the gate early. Only a couple passed us before we cutoff onto the trail. Now that it was starting to lighten up, we could see a few breaks in the clouds, so that gave me hope that the weather might be improving. The next 2 miles were fairly flat, with the trail wandering around lots of little ponds and streams.
The trail started to steepen as it went over a little pass and this is where the views really started to open up. It was also around here that the drizzle stopped. We had seen a few people in front of us, and slowly we passed all of them. Living at 5k' has its advantages!
The trail is about 16 miles long. Lots of signs along the way to let you know how far you have come, and telling people to turn around if it is past a certain time of day. I imagine that they end up with lots of people who need help getting down.
The views and easy trail made the miles fly by. There were many places I ended up tripping on rocks as I was a little distracted by the views.
The trail goes along the rim, with Ringedalsvatnet almost 2k' below us. The waterfalls dropping into it were amazing. It had rained hard the previous 2 days, so they were all running.
As we got closer to Trolltunga, the terrain got much rockier with lots of little lakes and streams.
We made it right as the sun was starting to peak through the high clouds. It was 8:30 and there were maybe 10 other people there. Most of them had camped close by. The pictures don't do the place justice. You wouldn't hit the water if you fell off, but the drop was hundreds of feet down. We waited just a minute for our turn to head out and get our photo taken by someone we met there. We went back out a couple of times as the light changed.
I had seen photos of a few people who do handstands out here, but sitting with my legs over the edge was good enough for me! We stayed out here for around an hour, and lots more people started to show up. The rain the past few days had pushed those people to hike today.
On our way out, we decided to count the number of people we passed heading up. We joked that maybe we would see 200. We had maybe hiked 2 miles when I heard a guy say '6'. I asked him what that was and he said that was the number of people heading down. I told him '178', as that was how many we had already counted! He didn't look so happy after I told him that! I have heard that in the summer, you can wait for an hour to get out and get your photo taken. We kept counting people, enjoying the amazing views and making comments on how we were so lucky to get up early. We saw all sorts of people as we were going down, lots that looked like they shouldn't be there. The trail was long enough and we were going against the flow, so it wasn't that bad. Once past the last emergency shelter, the day hikers started to quickly thin out and there were just some backpackers coming up now.
By the time we got to the bottom, we had counted over 750 people! That was on a Thursday late in Sept, wouldn't want to be up here on a weekend in the summer! We got back to the airbnb at 12:30.
It is a busy hike, but by getting up early, you can beat the crowds. I can see why this is such a popular hike and wouldn't hesitate to recommend it to others. It was a great warm up for the rest of the hikes we would be doing.