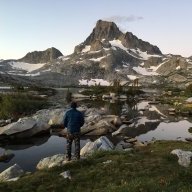 Joined

Feb 9, 2017
Messages

217
So, I've been challenged to find a trip that meets a myriad of conditions. My wife, bless her heart, wants to take me on a backpacking trip for my 50th in March (or maybe April). I'm thinking it would have to be in the southwest. I've spent many hours making lists of trips, but none in areas that are doable in spring. She has Reynauds, so cold won't work. We've gone on local summer overnights before. Among the "wants":
the hotter the better, the more above freezing at night the better
5-8ish miles a day (basecamp is good, maybe better). No killer elevation
2 or 3 nights
some solitude
don't have to pack in water
minimal bugs
I saw some Superstition Wilderness trips. And Gila Wilderness. Grand Canyon might be too cold. I don't want to go to Big Bend. Does anyone have any ideas for areas I should look into?