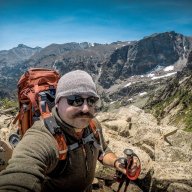 Joined

Feb 24, 2019
Messages

3
Glad to join this site, take in great information, and hopefully be able to share some as well.
I am from just on the Illinois side of St. Louis. I work as a professional firefighter and as an Industrial Confined Space Rescue contractor across the Midwest. Thankfully, these jobs give me the time and money to indulge exploring the outdoors.
Like many of you, I am a hiker, backpacker, and a Fly Fisherman. I really enjoy combining them, and fishing the high altitude alpine lakes. I am also slowly building my rig into Overlanding so we can do all of the previous more often and conveniently. My family and I enjoy going out west to the Rocky Mountains. Colorado and Wyoming are family favorites, but there are many more trips lined up to new places that we are looking forward to.
My wife and I were also photographers for a period of time, and love to still incorporate that into our trips whenever possible.
View attachment 75442
Last edited: