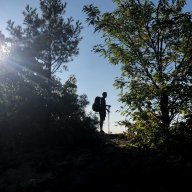 Joined

Sep 21, 2019
Messages

7
I've been lurking on this site for a couple of years and have learned a lot of great information that helped me plan trips to the Winds and elsewhere, so I figured it was about time I posted but I wanted my first trip report to highlight something from my neck of the woods. Last weekend we made it up from our home in Madison, WI to the Trap Hills segment of the North Country Trail in the UP.
Not as popular as the Porkies or Pictured Rocks, the Trap Hills are arguably just as beautiful and, with overgrown trails, no developed campsites and no permits, don't feel nearly as domesticated. And while the Midwest is flat, this trail is decidedly not. According to Caltopo we tallied a total elevation gain of over 5800 feet in 28 miles. In many, many increments of 150-300 feet each. The trail profile resembles a heart rate monitor.
Weather was humid but otherwise perfect and the fall colors were just starting to show but still a couple of weeks from peak. Perhaps the best part was that we saw no other people in 3 days except for a glimpse (and noise) of ATVers when we crossed an ATV trail on day 2.
No major wildlife sightings, but we saw plenty of interesting prints in the fresh mud along the trail. We also listened to the howling from a resident wolfpack on the first night.
Lots of beaver activity as well. You can just make out the large beaver house in the below picture, among a massive set of beaver ponds. I am always fascinated by the ways beavers can radically transform their environment.
Since the leaves turn at the top first, as we walked through the forest it was incredibly green, but then we would pop out on the top of a bluff for spectacular views of fall color among the sea of trees as far as the eye could see.
We crossed numerous mossy creeks and camped next to to of them, Bush Creek and Whiskey Creek, pictured below. Alas, Whiskey Creek holds only water.
I also saw more varieties of fungi than I have ever seen, including some enormous mushrooms and this set that was growing in a perfect circle.
The morning of day 3 was glorious.
Yes, we even have talus fields in the Midwest.
It felt like the colors were changing even as we walked.
The many peaks of the Trap Hills in all their glory.
Victoria Lake, the final view before heading down the bluff and the end of the hike.
Last edited: