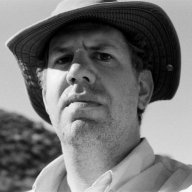 Joined

Oct 6, 2021
Messages

17
Folks, I returned to Trachyte Creek in late April of 2023. This trip was quite a contrast from a couple years ago — instead of just me there was seven (7) of us. Also the median age was 23.


I don't mind going back to the same places, and it was fun to share a canyon system that I was becoming somewhat familiar with new folks. This time around we went in via Woodruff Canyon.

We had intended to go to No Man's Canyon off the Dirty Devil River, but snowpack in Utah was enormous this spring and flow levels on the Dirty Devil were concerning. We didn't want to get stuck on the wrong side of the river.

It was a four-day trip and I'll do each day in a separate post in this thread.
Day 1

​
---
L–R: Dan Quayle, former Vice President of the United States; Gro Harlem Brundtland, former Prime Minister of Norway; Vigdís Finnbogadóttir, former President of Iceland; Spiro Agnew, former Vice President of the United States; Madeleine Albright, former Secretary of State of the United States; Rod "Blago" Blagojevich, former governor of Illinois, and myself.

Unfortunately the view from the trailhead was pretty worthless. (Just the Henry Mountains in this case.)

Woodruff starts out as a wide, dry wash with a decent trail and no scenery whatsoever.



The Henry Mountains from a little ways down Woodruff Canyon. Unclear to me why we even bothered.

Before long, we found ourselves at the same small side canyon where Mr. Nixon and I had had lunch the year before. Of course, we stopped for lunch.


Mr. Quayle exploring the side canyon. Foreshadowing: what had been a dry side canyon a year before now contained a large, muddy puddle that required barefoot navigation.

Mr. Quayle flees as Mr. Agnew destroys the runway.

We continued down Woodruff through the swampy/forested area. It turned out that the zoomers were more or less a flock of birds: one of them would randomly state some catchphrase (e.g. "sleigh queen girl boss"), and then the others would start saying it, and they would continue over and over until myself and Blago lost our minds. This happened a lot.

We rounded a corner and suddenly there was a calf staring at us from the middle of the wash. How cute! But it didn't move as we approached. Well it turned out the calf was standing over mama cow lying dead and rotting in the stream.
(The calf was gone when we returned a few days later. We told ourselves it must have found its own way out, or something.)

Well then.


P.M. Brundtland making her way along the Woodruff Canyon stream. It was flowing pretty substantially from the swamp/forest all the way to Trachyte.
President Finnbogadóttir overlooking the blocking fall in lower Woodruff Canyon. The bypass route is to the left.

The end of the bypass route a quarter mile above Trachyte. I was shocked to discover that the bottom of the downclimb was not a waist-deep pool like last year but rather a small sandbank, with a jump-over to the next beach. This sure made things a lot easier. We did lower packs on a rope. It was a fun time.

Before long, it was time to change into water shoes. We waded a bit and then changed back into dry shoes for the next bypass, after which the difficulties were over, of course.



lol jk. Trachyte was up quite a bit and thick with gray mud. It was possible to get across with dry feet, sort of, barely. I got in a lot of trouble for saying camp was right around the corner (which it was!).

I believe it was half a dozen or so crossings to get to our campsite ¼ mile up Trachyte. We did arrive successfully though, with no injuries, and morale seemed high. It was a good day.
Last edited: