Hey all!
Long story short, we got tired of the city and decided to head to SEKI in hopes of catching a beautiful sunset!
Left LA at 430ish and got to the parking lot at around 10ish. Unlike the last time we were here, the parking lot was bone dry. Not a bad thing...but I sort-of missed seeing snow
Ran into some snowy patches on some northern slopes not to far from the trailhead
Then more snow further along the trail. Maybe about 1.5 miles in.
more snow...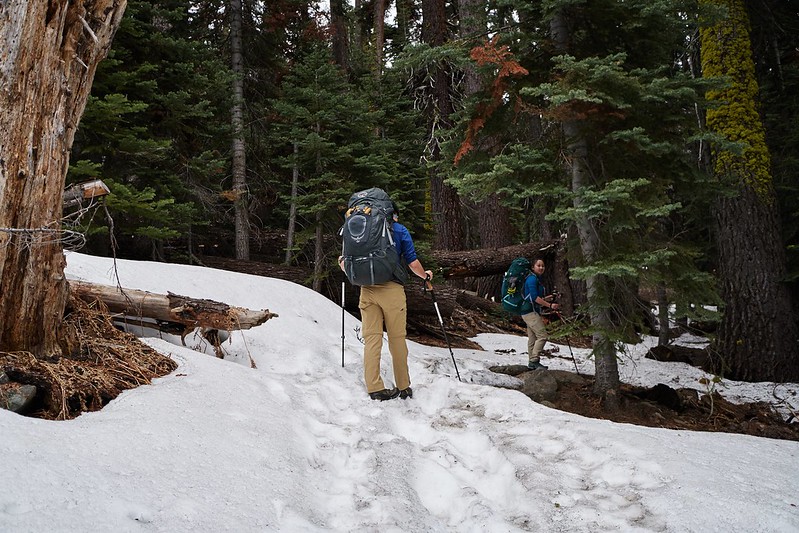 even more snow....
Ok by now I was getting a little bit tired of walking on snow...But hey! being in nature is a whole lot better than spending the weekend in Los Angeles! (as evident in my smile)
After a few more miles in, we made it to our destination! The view(s) were stunning!
Poor quality close up of the rock formation
Couldn't help but noticing this odd tree on a tree? :S
After some further exploration, we set up camp in a nice spot then began melting snow for water. There were a few creeks on the way out but we didn't feel like going back downhill
Fresh mountain water!
After melting enough snow, we started prepping our dinner which consisted of linguine w/ pesto, sun-dried tomatoes, pine nuts, bell peppers, Parmesan cheese, and red peppers
Before...
...After!
Thankfully we made dinner just right on time as the sun was setting.
Pink rays coming in
Last bits of the sunset
Probably could have been even prettier if the clouds had cleared off but we still got a decent light show that made the trip worthwhile!