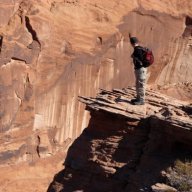 Joined

Jun 16, 2012
Messages

1,485
Well, as I've decided to broaden my horizons to some new wilderness areas, I have set my sights on the Gros Ventre Wilderness, which is just north of the Winds. A few weeks ago we drove up the
Union Pass Road
to check out the trailheads, and this weekend we hit a trail that headed up
Tosi Creek
. The plan was to make our way into Tosi Basin, but since the nature and even existence of trails all the way to the Basin was very questionable, I didn't hold out much hope. Also, it would be about 10 miles one way all the way there, and if there was much cross country hiking, I knew the odds were against us making it all the way. I originally decided to make it a two nighter, but I was busy at work and I felt we would have a decent chance of making it on an overnighter.
The trail started with a crossing of Tosi Creek, and for the next mile or two it was old double-track. Eventually, the double-track crossed back over the river, but we decided to stay on our side. We found a good informal trail, and followed it for several miles. The trail was relatively flat, but it was very open, and the sun was a killer that day. After about 8 miles, when we were supposed to turn cross country up the mountain towards the Basin, my wife and I just bottomed out. We took a short break to eat, hydrate, and try to recover in some shade, but we were just spent. Climbing another couple of miles didn't appeal to us, so we decided to camp in the creek valley.
We had a hard time finding a decent campsite, but eventually settled for just anything because we were so tired. We spent the rest of the evening reading and doing camp chores, as we watched a storm settle on the Winds east of us.
This area was really nice. The best part: we hiked about 18 miles in two days and saw a grand total of zero people. The trail had virtually no tree cover, and the sun was nasty. I really think we both got as exhausted as we did because of the sun exposure...I'm not sure I've ever felt that run down on the trail. This is grizzly country, but we didn't see any signs of any other than a couple of scat piles that may have been bear scat. We saw a lot of elk and deer, so that was nice.
Anyway, great place. Going to have to try again for Tosi Basin...it would be best to make it a two nighter, I guess. Here are some pictures.
What in the world is this bird? It flew off making a sound like a goose, but it was huge.
Beaver pond
Gros Ventre
There were old mines in the area, and this was a relic from that, I guess.
Notice the rubber tires, though.
This elk didn't seem to notice us until it got about 15 feet away and my wife said something to it.
This was a very interesting hill that had some weird rock patterns on it. It seemed to have been carved by a glacier, but the rock lines went across the ridge at an angle rather than down the ridge. It didn't make sense to us.
Featured image for home page: