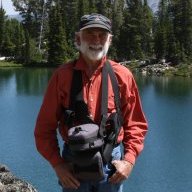 Joined

Sep 30, 2014
Messages

475
A few photos from the past Wednesday and Thursday. We day hiked this on the 4th of July, but a much better experience with an over-nighter. For location info, check some of my previous North Meadow Creek thrreads.
My wife and the first use of the new tent (MSR Mutha Hubba NX). It was a good test of the tent-probably a 25 mph wind when we set it up and it kept getting stronger all night. It stayed put. And damn, it's nice to use a tent that has very thoughtfully placed zippers that actually work-even if it does weight 7 oz more than what it replaced.
Lake outlet.
Lake-lots of fish (Yellowstone cuts) but my wife didn't keep any for the frying pan.
Always see a few of these guys there.
Bradley Meadows. Not much green left after a very dry summer.
Upper Twin Lake on the way back to the Jeep. Still a little smoke but a lot less than the last few weeks.
A few Jeep trail photos. I like the backpacking portion of this the best but North Meadow is a very fun Jeep trail. At the outlet of Lower Twin Lake.
Trail shots. You have to like rock and best to have some low gearing for this, not to mention ample ground clearance.
And my biannual North Meadow Creek shot.
It was a good trip despite the wind the first day. The wind was forecast and I did throw in a chainsaw for the way out (it was needed). Bumped bottom twice-left front control arm and the front diff bottom but didn't hurt anything.