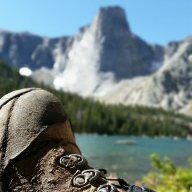 Joined

Jul 6, 2012
Messages

823
I have a 2003 Tundra that needs tires. The vehicle isn't driven daily so it won't see a many miles (and none of the miles it will see will be serious off-roading). Rather than slapping new tires on it, I figured I'd try to save some $ and buy used.

The classifieds have a lot of almost new Goodyear Wrangler A/T Adventure tires (the stock tire off of some versions of the Tacoma (TRD?)). Anyone have any opinions on this tire? Are people taking it of their Tacoma's because they suck or because they're upgrading to big, beefy, good-looking tires? The reviews seem good enough from what I can tell. Some of the classifieds are even selling the 5th (spare) which could also use replacing on my Tundra.

Thoughts?
Other good alternatives for an inexpensive set?
Any good websites to research?

Thanks.