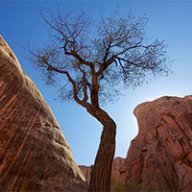 Joined

Aug 9, 2007
Messages

12,909
This makes total sense....

Source:
http://www.latimes.com/entertainmen...and-canyon-discovery-20130318,0,7431302.story
Nik Wallenda plans to make the walk without a safety harness or net. (Tim Boyles / Getty Images / March 18, 2013)

Nik Wallenda, the man known as "King of the High Wire," will venture into Evel Knievel territory this summer when he makes a daring high-wire walk across the Grand Canyon. And those curious to see if he makes it will be able to watch the whole thing live on Discovery.
To make things more interesting, Wallenda doesn't plan to use a safety harness or net. One wrong step and it's 1,500 feet straight down to the Little Colorado River.
The daredevil made the announcement on NBC's "Today" on Monday morning, telling Matt Lauer that the Grand Canyon was "another one on the bucket list" of places he's wanted to traverse via tightrope.
Last year, Wallenda became the first person to walk across Niagara Falls from the U.S. to Canada, 200 feet above the rushing waters. As impressive as that feat was, however, Wallenda considers it a bit of a missed opportunity because he wore a safety harness.
"It was my dream to walk over Niagara Falls since I was 5, 6 years old, but part of that dream was taken away because I had to wear [a] harness," he said on "Today." "The exciting thing about this event is that I won't be wearing any tether or safety whatsoever."
Wallenda, 34, said that this walk will be in honor of his great-grandfather, Karl Wallenda, who died after falling from a tightrope in Puerto Rico in 1978.
Knievel, the legendary stunt jumper, once pursued a leap across the Grand Canyon but was denied airspace over the canyon by the U.S. Department of the Interior. Instead, Knievel attempted a jump on a rocket-powered cycle across the Snake River Canyon in Idaho in 1974. The jump failed, but Knievel survived with only minor injuries.
Discovery, which had success airing Felix Baumgartner's dive from the edge of space in October, will air the stunt live on June 23.