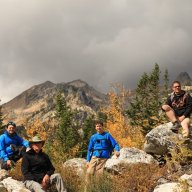 Joined

Aug 21, 2018
Messages

527
About 18 years or so ago I had driven from Ohio to the West Coast stopping at various National Parks/Outdoor Points of Interest along the way. I was able to spend one day at Mount Rainier and made the hike/climb up to Camp Muir before camping at Cougar Rock and heading off to Olympic the next day. I've always wanted to get back to see more of what I missed, and all these years later I finally took the time to head back to the mountain this past July.
Things are a little different this time around. Instead of driving we flew into Seattle. I brought along my brother in law from Louisiana to give him some perspective on different topography. Due to flying and logistics we did not backpack the trip (don't think less of us) but we did try to venture out for some meaningful hiking each day.
We arrived in Seattle about noon on Tuesday the 23rd of July. The skies were cloudy and fog was thick in some areas. I had been telling BIL (Brother-in-Law) about how Rainier dominated the landscape for miles around but he was having a difficult time believing me at this point. Rather than go straight to Rainier we ventured a bit further South to an area I had missed on my previous trip but always wanted to see: Mount Saint Helens. I was a boy when it erupted (BIL was not even thought of yet!) and the images/story were fascinating to a nerdy kid.
We made the drive South from Randle on Forest Roads -- they were drivable but you had to be careful not to bottom out. The destination was Norway Pass Trailhead for a quick two mile hike to get a view of Mt. Saint Helens and Spirit Lake from Norway Pass.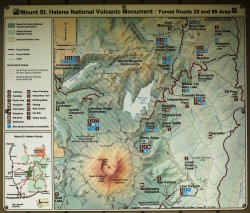 Right off we were greeted with wildflowers all around us. The flowers were something I was looking forward to seeing; I like to think I have a bit of a green thumb and our family runs a small greenhouse in the spring months. . . I'm always interested in new and exotic plants.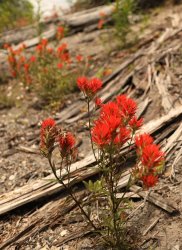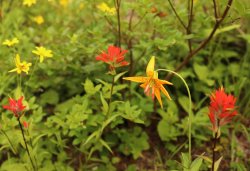 The lower elevations were covered in stumps and trees all downed in the same direction -- probably from a combination of logging and the effect of the blast almost 40 years ago.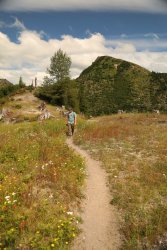 In no time we had made our way to the Norway Pass viewpoint. Sadly the clouds were still obstructing the view but getting to see Spirit Lake and all the logs/trees still floating in the water was worth the effort.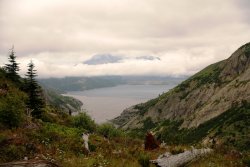 We had talked about hiking all the way to Mount Margaret but the clouds were getting thicker by the minute and the sun was heading down so we headed back. Along the way we heard a grunting sound along the trail and noticed a Grouse causing the commotion.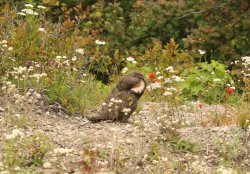 The return drive on the forest roads was just as intense as before, but we made it to Rainier with no hubcaps lost.
I will make new post for each day -- mostly so I can keep my pictures/story in order.