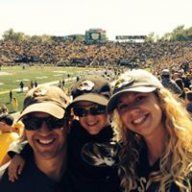 Joined

Oct 7, 2014
Messages

98
A group of 7 of us already have back country permits for the itinerary below for a trip in late April. I'm thinking about changing the second half of our trip that focuses on Islands in the Sky and either do a day in Arches or spend more time in
Needles
; or ditching one of the hikes in the Island in the Sky portion and doing a rafting trip or other trails. I'd like to hear your thoughts on this itinerary and anything you'd recommend. Also, any thoughts on Needles water sources in late April - are there any? We're planning on packing a lot of water, but of course, would prefer to cut down on the weight.
Day 1: Arrive at
Moab
airport about 10:15 AM and get picked up by 2 friends coming from CO. Drive straight to Needles area. Hike to Chesler Park 1 campsite, setup camp, and perhaps some quick exploring if time permits.
Day 2: Hike to Elephant Canyon campsite, drop gear, and then spend day hiking. Haven't picked the hike, but we shoudl have a long day available using EC2 as base camp.
Day 3: Wake up and hike out to car. Drive to Islands in the Sky. Hike Upheaval Canyon trail and camp at the Labyrinth campsite or somewhere in Taylor Canyon zone.
Day 4: Hike back to car and drive to Murphy Point trailhead. Hike Murphy Loop and camp in Murphy Point Zone.
Day 5: Hike to car. Flight leaves Moab at 3:15 PM, so may have a bit of time to explore.