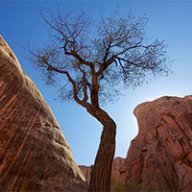 Joined

Aug 9, 2007
Messages

12,939
October 2011
The San Rafael Swell is a big place. So I suppose it's a bit odd that this trip report takes place mostly in two opposite corners of The Swell. But that's just the kind of trip it was. Not a lot accomplished but a relaxing time none the less.
The original plan for this weekend was a final backpacking trip of the year. We were going to take Monday off and spend 3 days backpacking Halls Creek Narrows in Capitol Reef. A fitting end to a good season of backpacking, I thought. It wouldn't have brought me to my initial 300 mile backpacking goal but that's okay. 255 would have been okay with me.
But unfortunately that's not how things went down. As the trip approached, the weather started looking bad, particularly Sunday into Monday. Not a good time to be down in a narrow canyon without a recent forecast. After much wavering between options we decided to skip the backpacking and spend a weekend down in The Swell. Nate and I both wanted to bring the dogs along and since he has only been out there once before, it seemed like an easy solution.
So we set out towards Price on Friday afternoon, totally unsure of exactly what or where we were going. I had a few hikes and sites in mind but no specific agenda. We made it to Price and decided that the fastest way to a dirt road sounded best so we headed south towards Castle Dale where we turned off the highway and onto the first of many miles of dirt roads we would see over the next few days. First stop, The Wedge.
We drove directly out to the Little Grand Canyon overlook at The Wedge where we unloaded the pups, grabbed a few beers and walked out to the overlook. We stopped along the way so I could have Nate take a shot of me and my new t-shirt. I was quite proud.
The view from our perch above the San Rafael River gorge, aka, The Little Grand Canyon.
We soaked in the views for a bit before heading down into Buckhorn Wash to find a place to camp. As we left, we noticed a really nice campsite with an official steel fire pit right there at the overlook that looked very tempting. It sits right on the canyon rim but it's also right next to the parking for the overlook. We thought hard about staying there but eventually opted for the solitude of something elsewhere.
So we drove down into Buckhorn all the way to the big pictograph panel, we found tons of campsites but I think we must've still been dreaming of camping on the edge of that cliff because we decided to turn around and drive all the way back up there. Lucky for us, no one had taken the site in our absence and soon enough we were sitting in our camp chairs on the edge of the cliff watching the sunset.
During sunset a couple came by and took some photos at the LGC overlook. After the light faded, one of them came and talked to us for a bit. His name was Pete from the Czech Republic. He and his wife(?) had been traveling around the west for the last 3 months. We shared a beer and chatted about all the places he had been and showed him some things on our map. Before he left, he came back over and gave me his Trails Illustrated Map for Glacier National Park as a thank you for the beer! Wow, what a nice guy! I tried to decline but eventually we just settled on sending him with a few more beers. Great to meet you, Pete!
It was a nice, calm night out there. Perfect for camping in such an exposed location. There wasn't much moonlight and there were a few big clouds out so I didn't try much night night photography. Here's one of Nate and I around the fire.
We stayed up WAY too late that night. Beyond 2:30am, not good. So when I woke up and saw the nice clouds in the sky, I knew it was going to be a rough day because there was no way I was going to sleep through this sunrise. This shot is from just outside my tent.
Looking west from the LGC overlook.
Looking back at our camp from the LGC overlook. You can see Nate's tent on the edge of the cliff in the upper left.
The sun filtering through the cliffs in the San Rafael River Gorge.
After the sunrise, we slowly packed up got on our way. We only had one visitor in the morning, not bad for camping right next to an overlook like that. We drove back down into Buckhorn Wash and stopped at the big pictograph panel for a few minutes. This panel is huge and its right along side the road. Most of the figures are pretty much life-sized. Here's a couple of shots.
From there we decided to head south and try out Crawford Draw. Bill had reccomended it a couple of times and it seemed like a good option with the dogs. But when we got there, we walked out to the edge of the slot to see this.
Tons of water and mud! It was hard to get a picture down into the slot from above but some of the pools looked like they were 100 or more feet long and the water looked nasty. In between pools it looked like the classic slimy, slippery mud that you find in a slot after a flood. We walked the rim a bit and decided it wasn't worth getting wet. It would be one thing for us to get wet and muddy but a much larger pain in the ass to have three muddy dogs.
So we went to the head of the slot, down-climbed to just above the first pool and sat in the shade for a bit.
Nikita and Sonny checking things out.
I really like this shot simply because Teak's doberman nose is so similar to the big rock she is standing next to.
Teak waiting for me while I was in the slot. She is becoming such a wonderful dog, it's sad that I don't take her on as many trips as I take Nikita on but I think that's changing rapidly.
Nikita above the slot. There were quite a few places where one could easily jump the slot near its head. The penalty would be severe. I was a little scared the dogs might go for it.
After being defeated by the mud and water, we decided to head to Hidden Splendor. As we approached the old air strip, we noticed what looked like a really aerodynamic camper parked out there. We were a little bummed because we hadn't seen any people for quite some time. But as we got closer, we realized we were looking at not one, but two airplanes parked at the end of the dirt landing strip. Awesome!
We stopped up by the airstrip for a minute, I really wanted to watch them take off. But unfortunately, there was no one around. We decided they must have hiked down to the mine so we drove the 4WD road down to where the road ends and made some lunch. We weren't there for more than two or three minutes before we saw three guys walking our way. Sure enough, they were the ones with the planes. We talked to them for a while and learned all about this hobby of landing on dirt air strips. This was one of many they landed on that day and they were on their way to a BBQ at the air strip up at Cedar Mountain. Sounds fun!
After a while they continued their hike up to their planes and we hid in the shade of the truck and ate some sandwiches. It wasn't long before we heard the sound of a plane rumbling down the air strip. I hopped up and swapped lenses and got a few of the second plane heading into Grand Gorge.
Here's a very cool video of a plane landing and taking off from this air strip. This isn't the same guys, just a video I'd seen previously that I thought I would share.
Nate and the dogs hiding in the shade. It was unusually hot out there for this early October afternoon.
The dogs were ecstatic when we started hiking and immediately ran into the first mandatory river crossing of the Muddy Creek.
There are quite a few relics along the Muddy Creek. No idea what this was. Impressive that it hasn't been washed out by a flood yet.
The famous 'Motel 6'. This is the old cabin/bunkhouse for the Hidden Splendor Mine.
Inside Motel 6
A little further down the canyon we found an opening to the Hidden Splendor Mine. Teak really enjoyed the cool air. It's not easy being a black dog on a sunny day in the desert.
We decided to hike further down into The Grand Gorge of Muddy Creek. This is where the river cuts through the San Rafael Reef.
At one of the first bends in Grand Gorge we found a hole deep enough to swim in and we went right in. Me on the left, Nate on the right.
By the time we were done swimming, the canyon was in the shade and we decided to hike back to the truck rather than continue down into Grand Gorge. Something I'm kicking myself for in retrospect. The light was nice on the walk back.
Nate checking out an old pickup truck along the banks of The Muddy Creek.
Once back to the truck we deliberated on how to spend the rest of our trip. So many options and so much indecision. Nate really wanted to check out the mines down near Tomsich Butte on the Red Canyon loop so we decided to leave Hidden Splendor and camp down there. But on the way we decided that our supply of gasoline could potentially be a problem, especially if we made it part way through the loop to find an impassable section like the last time I tried it.
I had been wanting to check out a campsite up in the Head of Sinbad area so we decided to head north. It was pretty much on the way out so it removed any fear of running out of gas. The drive through Rod's Canyon was nice.
Some of the excellent pictographs at the Head of Sinbad.
Great light at Head of Sinbad.
After checking out the pictographs we drove to the campsite I had in mind only to find it occupied. Damn. We scouted out another that was not nearly as good and settled in for the night. I didn't take any more photos on this trip. In the morning we were going to do one quick hike on the way out but some things came up at home that required me to get back sooner. All in all, this was kind of a pointless trip. Great to get out there but sad that I didn't really do anything on my long list of to-do's in the area. I guess that old saying is true, if you fail to plan, you plan to fail? Oh well, still a great time, despite not doing much.