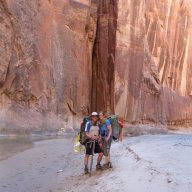 Joined

Dec 5, 2017
Messages

973
We were thrilled to get a permit for Coyote Buttes North in the online lottery 4 months in advance. I immediately went online and got a permit for Coyote Buttes South, which we went to the day after CBN. I got to work planning! With tons of help (thank you,
@Titans
, as well as
@chandlerwest
and whoever is very generous with their time and info on
https://www.thewave.info/
), we had an amazing 3-day trip that was perfect in every way imaginable.
Our trip was fabulous even before we got to CBN. We had decided to camp at Stateline and would drive in from the south after flying into Phoenix. I had known about the condor viewing site on House Rock Valley Road but figured we wouldn't be lucky enough to see any. Well, when we drove by Marble Canyon, we decided to stop at Navajo Bridge and check out the Colorado. Lo and behold, there were bird watchers on the bridge excited to show us the California condor sitting on the rock. Apparently there had been lots of condors there in recent days, but there hadn't been much action that day. Until we arrived! The one we saw started flying, and then another one joined it. Then they landed on the bridge right below us. My pictures aren't great, but here are a few:
Colorado River - looking upstream from Navajo Bridge at Marble Canyon
California Condor perched on rock behind bridge
One of the two condors in flight
Landed on the bridge support below us
We hoped they might fly some more, but they just hung out. The bird watchers said this one was doing some thermal regulation.
They nest far back in the rock where the white droppings are.
Our trip was off to a great start! We arrived at Stateline campground pretty close to sunset and most of the sites were full, but we lucked out with a great spot at the end - private and a little walk up the hill where a bench overlooked the cliff. Stars were gorgeous that night.
The next morning we were full of excitement for what lay ahead. Weather was perfect. We spent 11 glorious hours exploring all over the place - Top Rock, Sand Cove, and two passes at the Wave, including late in the day when we had the place to ourselves and it was so peaceful. We used GaiaGPS (thank you again,
@Titans
for helping me learn) and couldn't have done what we did without it. I took hundreds of photos (well, maybe more than that) and am probably posting too many. Here goes:
After awhile at the Wave, Second Wave, Boneyard, etc., we went up Top Rock the back way - longer but easier than going up the front for us wimps.
I called this Table Rock.
The Alcove was a wonderful spot for a midday break - cool, shady, comfortable. Perfect.
We loved seeing the Wave from up above.
Coming back down after Top Rock
We and this herd watched each other for awhile. I got some nice videos. This photo has weird lighting, but I like the way it shows the sheep so well.
Late afternoon - fun colors!
Late in the day - had the place to ourselves and it was so shady, cool, and peaceful.
This place truly is incredible. The close-up and far-away scenery is so gorgeous. I know this is debatable, but to me it was worth the effort to get this permit.