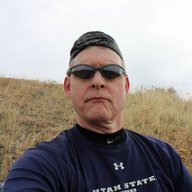 Joined

Dec 23, 2013
Messages

3,008
Back to the old Van Cott Loop this morning. The weather here is just perfect for hiking, being sunny, and reaching a high of 50 degrees at the summit of Van Cott.
Van Cott from the west
Giving the knees a rest
Spring Parsley already.
Common Storksbill is blooming all over Van Cott now, after we only saw two blooming on our way up the Avenues Twin Peaks last
wee.
A caterpillar on the trail
Not much snow left in the foothills
Lichens
Black Mountain Ridge
A young sage
Summit shot
Red Butte Canyon
Mount Wire and ridge
Gnats were all over the summit, and me, as we broke to have a snack. We also saw a fly, and four butterflies at the top.
Time to get the hell out of Dodge!
Sheila, checking out the Wasatch
More storksbill
Red Butte
A butterfly on our way down
Another shot of Red Butte as we loop back around to the Subaru.
The End.