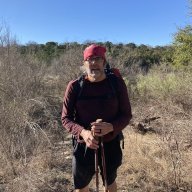 Joined

Jan 18, 2014
Messages

309
33 years of warmth.. th red colored bag is a Circa 1989 Marmot Goretex -5 below Snow Goose…. 650 fill goose down. Had it down to zero or so and slept nice n warm….th sage bag is a 2004 Feathered friends swallow 20 degree custom over filled 750 fill goose down thats jept me toasty to round 15 over th gears.. had to useboth as quilts due to th summers in th rockies stayin round 30+-..decied to pull th trugger after th Yellowstone Sept. trip and go by Katabatic Gear in Colorado on th way back n check out their quilts.. I got a 15 degree with 850 duck down hyperdry fill that will save me some ounces and still keeps me nice n warm.
Wish I had a time machine to go back to 1989 n do itall over again.
The weekend pack weight ack then for a 2 day 1 night was round 45+lbs.. now for a 4/3 day nite its round 30 or so lbs with a chair n hammock for comfort added in). Maybe this ole back would feel better is Id been carryin less all those years! Time does fly..
Fixin to head out on th porch n see how th ole Marmot holds up to 26 defrees n 15 wind chill!