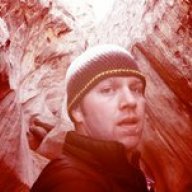 ^^^^^^^^^^^^^^^^^^^^^^^^^^^^^^^^^^^^
Joined

Jan 18, 2012
Messages

464
The Subway
by
root_family
, on Flickr
classic Subway shot
by
root_family
, on Flickr
FINALLY done with this video. I coach football during the fall which takes up ALL of my time. The Subway lived up to the hype for sure. The day before we did our hike we had just arrived at the Watchman campground and it began to pour rain like nothing I've ever seen. The park was alive with waterfalls coming out of every crack in the park. Check out @Bill's pictures from that day:
Zion flash flooding
alene
,
pinecone
, 2 other couples, and I started the hike early (as suggested) and the rain had literally stopped about an hour before we woke up. I could not sleep all night due to anticipation about whether or not we would be able to do the hike and kept reading through various guidebooks on other things to do. We decided to drive to the trailhead and on our way there, check out the creek as we pass over it. It was flowing pretty good, but we pressed on. We all understood that if any one person in the group was un-comfortable, that we would turn around.
By the time we dropped one car off at the trail end, then arrived at the trail head the skies had cleared up pretty good with just scattered white clouds. A small group was at the trailhead warning us that we probably should not go in and do it because two groups had to stay the night in there last night and were on their way out. We decided that we drove all the way up there and we were in beautiful country, so we started off anyway and figured that we could still get some nice down and back scenery just going to the steep descent area and if the weather looked bad, we would turn around and hike back out.
By the time we got to the descent area it was looking really nice so we decided to push on and it turned out to be a good decision. We had the entire canyon to ourselves the whole day. The water was flowing, but nothing risky at all (in fact it was standing still in many areas). We were in awe at the beauty of the canyon, stopping to take a lot of pictures. I had realized that we needed to pick up the pace a bit because we could spend forever in there.
It was amazing to see the destruction caused by the flash flooding water the night before. Areas I had read about that were "swimmers" were completely full of sand. The water was obviously chocolate brown that day and there was a part of me that would have loved to have seen it in the "normal" state that you typically see in other trip reports, but we also were grateful to see it in a state that not everyone gets to see too.
There was one area that caused a tiny worry and that was the bowling alley, where the choke stone was blocked off by giant branches and not easily passable. We ended up finding the bypass route up and around it to the left and beyond that it was very smooth sailing. The hike out was as brutal as described; not necessarily hard, but boulder hopping got old pretty fast.
I'd go back and do this any time given the opportunity, in a heart beat and can't wait to hit the Russel Gulch route and maybe Das Boot (with more experienced guidance of course).
Highlights from the trip
Featured image for home page: