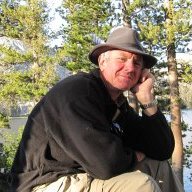 Joined

Sep 30, 2014
Messages

673
The plan was a month-long trip to the Southwest, visiting all the big-name parks: Great Basin, Zion, Bryce, Capitol Reef, Canyonlands, Arches, Mesa Verde, plus Escalante, and The Toyabe National Forest south of Austin, NV. At least four backpacking overnights, maybe one longer trip. Lots of day hikes, from the Narrows and Angel's Landing in Zion to slots canyons in Escalante…
That was the plan.
But M was diagnosed with tendonitis in her heel following our adventure last month in the Grand Canyon, and so that plan didn't look so good. She would be walking for the next six weeks with a plastic boot on her left foot. The fact that my left knee seemed to be intent on causing me pain with every step I took didn't improve the situation. We had made reservations at Zion and Arches, and our daughter was flying out and meet us a week around Moab, but we needed a new plan.
So what do you do in that situation? We decided to go anyway. We would take it easy, and we would just have to see how much hiking we could do. In any case, we were determined NOT to make things worse with either of us, because we still have our backpacking plans in the Sierra later this summer—If possible. Sigh.
In the end, this turned out to be a really good trip, and we did get to do just a bit of hiking---a total of about 65 miles, nothing major—but this would serve as a very good outline for anyone who is considering a trip to Utah and its neighbors and doesn't want to hike their feet off. We didn't, thank goodness. And we're still hoping to do some backpacking this summer.
What did we love? The parks are stunning. We added the North Rim of the Grand Canyon to the list above and loved them all. Great Basin was empty and beautiful. Zion was jammed packed and still lovely. Bryce was comparatively cool and delicious. Capitol Reef had the best petroglyphs. Canyonlands was great fun. Arches was stunning…and packed with people. Mesa Verde was unforgettable, and cool. North Rim changed our perceptions of the Grand Canyon a bit.
But other parks also enchanted us. Cedar Breaks is amazing, and the petroglyphs in Parowan Gap and Sego Canyon were the best ever. Red Canyon was charming. Dead Horse Point is great. Hovenweep was a jewel. Edge of the Cedars museum in astonishing. Natural Bridges and the road south from there are simply astounding. And little parks like Berlin/ichthyosaurus and Fort Churchill State Park were just what we wanted, when we wanted it.
We saw highway signs warning us about dairy cattle, wild cattle, wild horses, horseback riders, deer, elk, bison, bighorn sheep, pedestrians, and marmots (!)
We also saw dairy cattle, wild cattle, wild horses, horseback riders, deer, bison, pedestrians and marmots. No bighorn sheep or elk, dang it. But we'd seen elk in the Grand Canyon six weeks ago—does that count?
We were thoroughly impressed with how friendly, helpful, and cheerful the park service staff was in every park: well-trained, enthusiastic, and fun. Makes us proud just to think about it.
And while we didn't do any long hikes, we did manage quite a few really good short ones, nothing more than five miles: Emerald Pools and Kayenta Trail in Zion; Queen's Garden and Navajo Loop in Bryce; two really nice short trails in Red Canyon; Devil's Garden in Arches; Mesa Arch and Aztec Butte in Canyonlands; the Castle Canyon trail in Hovenweep, Bighorn Viewpoint in Dead Horse Point, and lots of viewpoint walks that were never too long, but added up to lots of Advil every night.
We even found some pretty good places to eat. We loved Magnolia's Food Truck in Boulder, Utah, in the parking lot of Anasazi State Park. And yummy and healthy food at the Capitol Reef Inn in Torrey. Lots of good food in Moab. Best of all was 707 Food Bin in Grand Junction…go figure.
And we wouldn't be back home without the help of Randy Pixley of Maxwell's Garage in Cortez…who fixed out van quickly, effectively, and cheaply when we were really stuck with no other options.
About 4000 miles of driving. About $100 a day in expenses (including gas for Le Vin Blanc..our Ford E-350 van.) And even one night in a hotel—Whoooey!
If you'd like to read the whole report, Part I starts here:
https://sites.google.com/site/backpackt ... esouthwest
And after each section of the blog, we have a link to more photos, just in case you are completely masochistic.
Check out our website and blog at:
http://sites.google.com/site/backpackthesierra/home