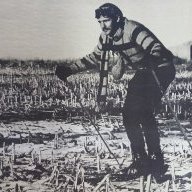 Joined

Jan 15, 2017
Messages

27
This August trip back to the Winds was all I could hope for and nothing that I expected if that makes any sense. I started planning this trip in May of 2016 and this site with all of you were a huge resource for that and I thank you for all your knowledge and information. The plan was to spend 9 days with my wife hiking a loop from Big Sandy up over Hailey Pass and around the Lizard Head Plateau, down into the Cirque, up over Jack Ass and then spend the last few days in the Deep Lake/Clear Lake area. Glad I was able to be flexible because the biggest element of this trip changed. My wife injured her shoulder a few weeks before the trip and in the end was not able to carry a pack. I made the much questioned choice to go solo. I arrived August 11th and couldn't be more excited and I admit a little nervous to be going solo. When I pulled into the parking lot, I realized that I may be solo, but I am certainly not alone as the lot was packed with cars and trucks lining the road on the way in. It was a beautiful and a sunny day, probably close to 70 degrees. I signed in and off I went.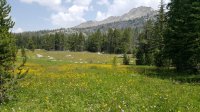 As I hiked through the woods towards Fremont Trail and came out into the clearing on the way to Mirror Lake, I was greeted with the bright colors of the wild flowers.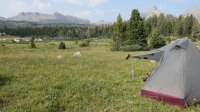 I had planned on camping at Dads Lake but when I arrived I found the area fairly populated. I decided to take my first route detour and head up towards Donald Lake and find a campsite there. I did find a spot that called me to stay. The first evening was calm and I was granted some great views and was able to explore the area for awhile.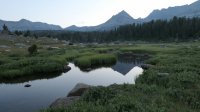 Donald Creek was a beautiful area.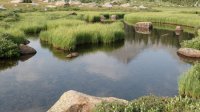 Morning sun made for even better pictures.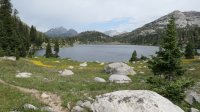 Day two I left Donald Creek and made my way past Dads Lake, I got excited as I approached Marms Lake here and the spectacular views started to appear of Mt Geikie, Pyramid Peak and Mt Hooker in the distance. Through all of my trip planning, I became very anxious to camp in the Pyramid Lake area and explore the East Fork Valley.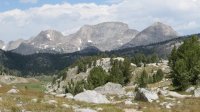 Pyramid Peak and Mt Hooker get closer.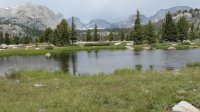 A glance into the East Fork Valley.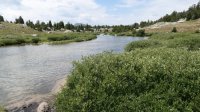 Crossing Washakie Creek.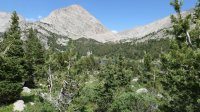 A view up towards Haileys Pass next to Pyramid Peak. I intended to camp in the Pyramid Lake area for my second night of my trip. I made my way past Mays Lake and began the last push up towards Pyramid Lake and was really starting to feel the miles. I had gone further than I intended since I had camped at Donalds Creek. This flatlander was feeling it.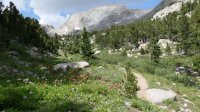 The views from the last push would certainly not disappoint though.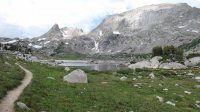 I was understandably very excited when the lake came into view.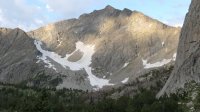 The views from my campsite were nothing short of spectacular. Mt Geikie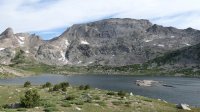 Great view of the back side of Mt Hooker right out of the tent.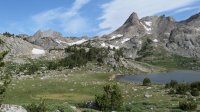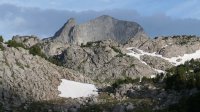 A zoom camera would have been nice.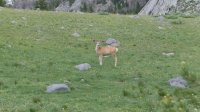 The only wild life I saw bigger than a marmot. Have to admit I was a little disappointed to only see a deer. Hardly a morning goes by that I don't get to see one of these on the way to work. He was gracious enough to give me a great shot though.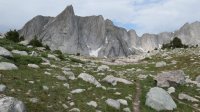 The second night was the only night that mosquitoes were a problem. I managed to do my camp chores and hit the safety of the tent just in time to avoid being eaten. I did not feel well my first night out here and this second night proved that I had some sort of stomach problem developing fast. I spent most of the night tossing and turning with really painful cramps and this next morning, I was not able to keep food down. This became a problem that would change the course of this trip yet again. I did feel well enough to keep moving though as my biggest struggles were through the nights and then the lack of energy that came from not eating much.
On this third morning, I planned on hiking up and over Hailey Pass but I had to go and at least look into the East Fork Valley first since I did not the night before.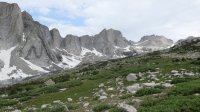 This is an incredible place and I really could have spent the day here but as I contemplated making my way down to the lakes in the valley, a storm was moving in and I decided to head back out and leave the thought of further exploration as a motivator for a return trip.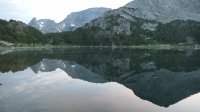 As I returned to Mays Lake, there were a couple guys from Laramie that were doing pretty well at fishing. I made the decision to stay here and not attempt the pass this late in the day. It wouldn't hurt to give this body a short day anyway. I found a great spot to set up and as I got my fishing gear out, of course, it started raining. I brought my old fly rod and really hope to get an opportunity to catch a fish. I spent the last few hours of light looking out my tent awning at the rain and even pea size hail. I didn't mind.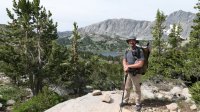 On day four, I started my way up Haileys Pass. One look back over Mays Lake. I met a couple of guys from Ohio that were going up over the pass too and we decided to hike together.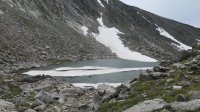 Twin Lakes were harboring some cold waters.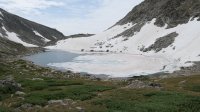 No polar bear club for this hiker. The rest of the climb up the pass continued to get windier as we went.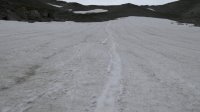 May not have been the safest way down but looking back up at the scree above the snow field, any way down had it's risk. Not to mention, it was a blast glissading down this.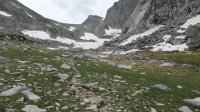 One last look back up the pass.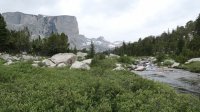 Glimpses of the face of Mt Hooker had me excited about another area I was anxious to explore. But like the East Fork Valley, I wasn't sure if it was going to work out. My energy level was dictating every thing now and I certainly began to question my decision to come over the pass the way I was feeling. Weather was looking questionable and we weren't sure of the where at Graves Lake we would camp so we decided to work our way down to Graves and find a good spot. We could then decide if we would go up to Baptiste Lake.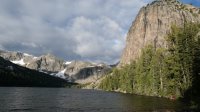 No problems finding a beautiful spot. Quite a few fisherman here. They were certainly geared for fishing and not backpacking. Another incredible view from below camp at Graves Lake.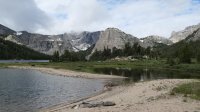 Graves was an incredibly large lake and it's surrounding beauty was breathtaking. We all agreed that unfortunately, Baptiste would have to be another time.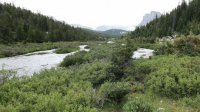 Day five hiking past Graves Lake and up along the South Fork of the Little Wind River. Planning on finding a camping spot in the Valentine Lake area. At this point in the trip, my plan was to bypass my side trip to Deep/Clear Lakes area which was the only place up here that I had been before. I truly wanted to see East Temple Peak again but I knew my health was a great concern now and I just needed to continue on. My new friends from Ohio were making the same loop that I was so they offered to continue to hike and camp with me. I welcomed their offer and was glad to have the company of a couple of great guys.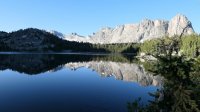 Valentine Lake impressed. I kept thinking to myself, I could stay here, and I finally caught my fish or should I say, a little fish. I was at least happy to be able to say that I caught a lake trout in the WInds when it was all over.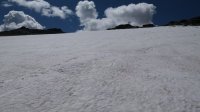 Day six, The hike up towards Cathedral Peak as you would suspect, became very windy as we gained altitude and crossed this snow field. But the views opening up of the range were spectacular and continued to be so the entire distance over the Lizard Head Plateau. The hike across the plateau seemed to go on for miles. It was incredible to me that even up on a large plateau like this, the views just kept changing and impressing.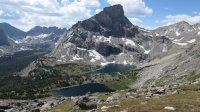 Perhaps the view that captured me the most from the plateau was Lizard Head Peak. I absolutely loved this view but I was beginning to feel very week and was anxious to get down to a camp site.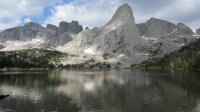 Coming down into the Lizard Head Meadows and into the Cirque of the Towers was a good feeling to be across the plateau and in another incredible area. All three of us were tired from the hike.
The population in this area certainly elevated to the highest level of this trip. We were able though to find a nice camp site and we all were quite content slowing down and calling it a night.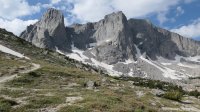 The next morning on day seven, hiking up Jackass Pass provided some great moments to turn back and take in some great sights of the cirque. We didn't get to spend much time here so it was good to stop and take it in often on the way up the pass. The views of War Bonnet were captivating the whole way up the pass.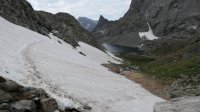 Coming down the pass gave that picture perfect shot of Arrowhead lake.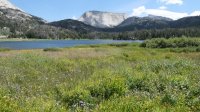 I was happy to see Haystack Mountain and the tip of East Temple Peak off in the distance. This was one part of the trip I had to leave behind. Yet more motivation to return again soon. I was certainly anxious at this point to push on and out to the trail head. I was blessed to be out here for these seven days and to have gained a couple of new friends. Though I didn't feel well on this trip, I wouldn't trade it for anything. What a magnificent place and I am hooked.