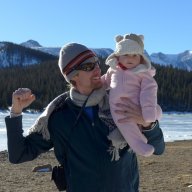 Joined

Mar 18, 2014
Messages

103
Spring Break 2018 - last week of March. The weather could be iffy. I kept looking at the forecast and it seemed like it would get better and better each day throughout the week. We lucked out. On to the photos.
First place we stopped was Rabbit Valley. It's a nice stopping point on the drive from Boulder to Utah. Our kids would have a hard time riding much further. Last time we camped at the first spot we saw. This time that spot was taken so we went further in to find this free campground, with a toilet and picnic tables!
My son seems to think this was a real petroglyph he found up in the rocks. I question it's authenticity.
There is even a dirt pump track for the kids. A bit muddy today though...
There's a trail right off i-70 at this area called "the trail through time". 1.5 mile loop. Complete with dinosaur bones in the rocks. The kids loved it.
Sego Canyon - great accessible panel.
Goblin Valley - a people zoo. But still fun for the kids. We got away and hiked to the Goblin's lair as well. Great hike.
Does this last one look like a profile with a beard and all?
Start of the hike to Wild Horse Window. What a great spot - complete with panels! Amazing day walking over slickrock.
We had to hit up Little Wild Horse Canyon for the kids to experience this gem. It was crowded but we somehow got away from people.
Shangri-la. Camping in the desert. Junipers, canyon walls, portable disc golf basket, cooler full of ice and beer. What could be better?
Fantastic trip. We spent Sunday through Thursday at this same campsite as our basecamp. Met some really cool guys from California and Montana in the camp next door who gave us some incredible red wine to take back with us. We enjoyed that one the way back as we stopped by Glenwood Springs to ski at Sunlight in the Spring weather. Thanks Utah for another great experience!