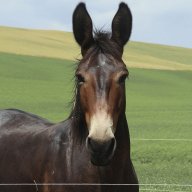 Joined

Jun 11, 2017
Messages

3,241
(This wasn't the kind of TR I'd originally hoped to post.)
The Road to Tuk (to a rap beat)
I was getting restless,
New country for to see,
And I heard that Tuktoyaktuk (say it really fast),
Was the place to be.
It sounded really cool,
Up by the Arctic Sea,
So I loaded up the dogs,
In my little old RV.
I drove up through Wyoming,
Through all the muck and mud,
I figured it good practice,
For the Dempster crud.
We soon were in Montana,
Where the sky is big and free,
So I put on my bandana,
And we camped there in the trees.
It was firecracker season,
And the dogs were all riled up,
And one pulled out a bite,
Just as the other ducked.
She didn't mean to chomp me,
And I say this sheepishly,
Don't ever use your feet,
To end a dog melee (say it just right and it rhymes).
The dogs got biscuits,
But I got stitches,
The road to Tuk,
Took all my riches.
Back in Colorado,
I'm pretty well healed up,
And I know I'll try again,
But I hope with better luck.
So if you're ever camping,
With a pack of bad wild dogs,
Whenever they start fighting,
Just fling them some hotdogs.
Or if you do get north,
And you know some Inuit,
Just throw the dogs some muktuk,
And that will en-u-it.
TL;DR: I headed north, wanting to see the village of Tuktoyaktuk in Canada's Northwest Territories, but only made it to Montana, where my good bad dogs tried to accidentally kill me (they forgot they can't drive or open dog-food cans).
Some trip photos:
Camped near Buffalo, Wyoming
Little Bighorn Battlefield
Apsáalooke (Crow) horses
Barn in Montana (I think east of Big Timber, but not sure, somewhere along there)
Railyard in Livingston, Montana
Sunset over the Absarokas
The scene of the "accident," Livingston, Montana
Last edited: