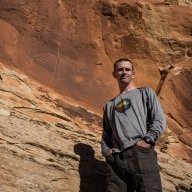 Wildness is a necessity- John Muir
Joined

Jan 4, 2014
Messages

1,099
03/22/15
This Sunday morn saw me taking the drive out towards Page. I always forget how long that drive is. My intention was to check out the odd hoodoos of the Paria rim.
I first followed a set of Kelsey directions...to a closed road. "Administrative Use Only." Sighs and low volume curses uttered, I changed course over to the rim above a set of "toadstool" hoodoos. Getting down to the toadstools was a bit of a task, leaving me wondering if I finally dropped down that drop that I wouldn't be able to get back up, but hey, I was able to walk around some pretty sweet rocks at least.
The rim view, looking over the Paria River drainage. Toadstools visible lower left.


Getting to the toadstools


The largest of the toadstools, with a cap rock 20-30ft across.


A giant snail. It even has eyes!

Luckily, I was able to find my way around to the path I took down without having to tackle the slickrock drops I had gone down. Once I hit the rim I was quickly back to my car driving to Big Water and the Wahweep Hoodoo TH.

Thinking I would be hiking to these hoodoos from the top, I had no idea how far I would be walking from the trailhead. I put aside that nag by thinking about hoodoos. Quite amazing natural wonders they are. Its hard to believe that a simple rock can stop water from eroding the softer rock under it and create awesome towers. If we stood outside 24/7, would a simple hat do similar for us? Do hats help us weather the weather better than not wearing hats?

Those thoughts only entertained me for about half the hike up... I was certainly happy when the canyon's walls magically changed into a composition perfect for melting in the rain and a 40-50 ft tower appeared.


Knowing more had to exist, I kept following the wash.


I saw more hoodoos hugging the cliff but a huge thicket of tamarisk separated me from it. Seeing a weakness in the foliage I plunged in...and quickly regretted that. When I found the other side I wuickly saw that if I had just stayed in the wash a little longer I would have passed the thicket for an easy alluvial walk. Oh well, more hoodoos awaited!

Another snail


There was quite a collection of hoodoos packed into the alcove

And yet still the hoodoo that I always see pictures of was yet to appear. The hoodoos sure seemed concentrated right here...and there wasn't much canyon left to walk up...but up further I went. Sure enough, right around the next canyon bend was a collection of flowstone hoodoos. So bizarre! Its like The Badlands meets Bryce Canyon. How?! Geology is so cool.



Satisfied, I headed back down the canyon. It sure seemed to go quicker, even though according to my watch it didn't. I must have zoned out thinking more about natural hats.

Featured image for home page: