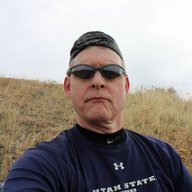 Joined

Dec 23, 2013
Messages

3,425
Starting on Monday, July 26th, I would be doing a six night Beartooth Wilderness backpacking trip with
@Bob
. This report is the two day lead up to heading into the wilderness. On the 24th, I drove up to Yellowstone National Park and stayed one night at the Bridge Bay Campground, where after I set up camp, I took a hike into the forest next to the campground. On the 25th, I then proceeded to a cabin in Cooke City, Montana, and of course on the 26th headed out for some backpacking in the wilderness. Along the way, I took some shots from my car with my old Canon Powershot SD700 IS.
The 24th
Heading up Logan Canyon
Glimpse of some rafters on the Snake River
Jackson, WY
Smoky Tetons
Some burn along the north end of Yellowstone Lake, heading towards Bridge Bay. There is a carcass dump near this location for
the not-so-faint-of-heart.
Campsite 206 at the Bridge Bay Campground. This sight was the furthest north in loop D, right next to the forest. I arrived shortly
after 5:00 pm
I forgot to bring my normal car camping sleeping pad, so I had to empty my pack to get to the pad I use when backpacking.
My tent
I started my hike into the forest after eating some dinner.
Harebell
Typical of what it looked like north of the campground
This guy came trotting up on me through the trees. I was a little nervous as I wasn't sure of his intentions, but he passed by me
without incident.
Monkshood
Richard's Geranium
I then ran into what I believe is a trail?
Common Yarrow
I then came out onto a powerline cut, and found this.
Curiosity got the best of me, and I opened the lid to peek inside, where I found this valve
A little further up the cut, I ran into a water line
Moss on a tree branch
Pearly Everlasting
Fireweed
A look up the transmission line cut. Time to start heading back to my tent site.
That trail again. I began to wonder if this is a small section of the old Howard Eaton Trail. I'll have
to do some further checking on that.
When I got back to my tent, I went to bed, then about 2:27 in the morning I was awakened by a "Crunch, Crunch, Crunch!" I thought to myself, "What could that be?" So after contemplating for a few seconds I decided to open the flap window on the door of my tent and see what I could see. What I saw was a large bull bison grazing right in front of my tent. He was maybe five feet from my tent, and didn't seem to be disturbed by me watching him graze. So, for the next fifteen minutes I had a front row seat to a grazing bison.
Eventually he moved down towards my Subaru and started scratching his head on a post that was located there. The post is to keep people from driving off the pavement and into the campsite proper. I then began to worry that he might decide the Outback was a nice scratching post too.
But he passed on without incident.
The 25th
Bison track near his scratching post the next morning
And of course he left me a nice gift just to the west of the campsite picnic table.
A campsite geranium
Hey, how did my Subaru, and my Jeep get to the Mary Mountain Trailhead in Hayden Valley? This trail is like a magnet to me. It
took all I had not to head up it for a couple of miles, but I needed to get to Cooke City.
The road between Canyon Village and Tower Junction is closed due to construction, so I had to head back across the Park to Norris, and then on up to Mammoth before heading east to the northeast entrance.
Wouldn't you know it, a bison crossing the bridge over the Yellowstone River between Tower and the Northeast Entrance
And then another coming up from behind
Howdy big fella!
And he is past. Notice the other one has now reached the end of the bridge (east side). That one, wouldn't let this one exit the
east end of the bridge! It took a long time before they settled their differences and moved on and finally let the traffic pass. Still,
it was kind of fun to watch it all unfold.
Soda Butte Creek
Monkeyflower along Soda Butte Creek
Red Clover along Soda Butte Creek
Just leaving the Park and into the National Forest
A little Cooke City History
My cabin for the night
The local watering hole
My pre-backpacking trip meal - bison burger with bacon and fries, topped off with a nice Scotch Ale at the Miner's Saloon.
It was then back to the cabin to get some rest before the wilderness journey that would start the following day.
The End
Last edited: