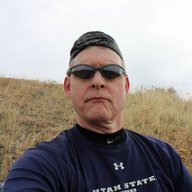 Joined

Dec 23, 2013
Messages

3,158
A coworker, Scatman Jr. and I did a day hike to the top of the Pfeifferhorn on Sunday. I hadn't done this hike in four years and the last time I did, there was quite a bit of snow to contend with. I was looking forward to hiking it in dry conditions. The fall weather was absolutely perfect for the hike. It took us roughly eight hours round trip which included lunch at the top along with a quick break at Red Pine Lake on the way up and a short break on the way down.
On our way down, the aspens glowed in the afternoon sun which gave a different feel and look than hiking up in the shade of the mountains.
Information sign near trailhead
Mileage sign


Hiking along the old Jeep road



Scatman Jr. - I love the facial expression!



Lone Peak Wilderness Boundary


Twin Peaks on the Cottonwood Ridge


Red Pine Lake looking west


Red Pine Lake along with Twin Peaks, Sunrise Peak and Dromedary Peak in the background


Heading to the ridge


First view of the Pfeifferhorn


Utah Lake in the distance



Knife's edge ridge and the Pfeifferhorn


Nearing the base of the Pfeifferhorn


View from the top - The Cottonwood Ridge to the north



View from the top - Beat-out Ridge looking west with Lone Peak at the end


View from the top - Mount Timpanogos to the south - sorry, bad sun angle


Amy, Scatman and Jr. on the top. I'm about to use my Iron Man powers to fly us down to the trailhead.
Red Pine and Upper Red Pine Lakes


Aspen glow on the way down



More Aspen
More Aspen


Looking up Little Cottonwood canyon towards Snowbird
Featured image for home page: