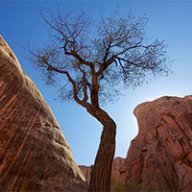 Joined

Aug 9, 2007
Messages

12,940
Ever been to Springdale and wondered why that Subway sandwich shop near the entrance to Zion is always closed? Well after 9 years of legal battle, Springdale just gave in and in the near future, you'll probably be able to get all the five dollar footlongs your heart desires before hopping on the Zion shuttle. No matter what your opinion is on the topic, this GIF of
@lostlandscapes
after a long hike at the Green River Subway, seems appropriate here.
http://www.springdale.co/springdale-repeals-formula-restaurants-ordinance/
Springdale Repeals Formula Restaurants Ordinance
Written by Marcos Camargo

In an emotionally charged meeting on Monday, June 29, the Springdale Town Council voted unanimously to accept a settlement agreement ending a nine-year legal battle with Izzy Poco, LLC. Izzy Poco filed suit against the town and several of its elected officials after the corporation's application for a business license to open a franchise Subway sandwich shop was rejected. The suit challenged a Springdale town ordinance banning "formula restaurants" that was meant to preserve the community's village atmosphere. Earlier this year, a federal ruling dismissed Izzy Poco's suit without prejudice because the Springdale Town Council rejected the application due to incorrectly filed paperwork. However, the federal ruling also recognized that Izzy Poco could still pursue litigation challenging the constitutionality of the ordinance.

Izzy Poco chose to move forward with the case, arguing that the ordinance violated the commerce clause of the U.S. Constitution. Springdale officials, under pressure from their insurance carrier to settle, acquiesced to the demands of Izzy Poco. The resulting settlement placed no liability on either party but requires the town to pay $787,500 to Izzy Poco. The settlement also requires that a business license be issued to Zion Sandwiches, LLC, a company owned by an immediate family member of some of Izzy Poco's owners, as well as an agreement by the town to repeal the prohibition on formula restaurants. Under the settlement terms, Izzy Poco agrees to comply with other Springdale ordinances including regulations on signage, building codes, and health regulations.

Several residents expressed deep disappointment with the settlement. Among those who voiced their opposition was Louise Excell.

"You've rolled over," said Excell. "You've given away this town… And if your attorneys have recommended that you approve this settlement, then you not only need a new law firm, but you need a new insurance company. And if you approve this, I would respectfully ask you to submit your resignation."

Council member Adrian Player rebuffed Excell's request.

"I am not prepared to resign," said Player. "I find that comment offensive. I will probably run again, and if you don't like my decisions, don't vote for me."

Mayor Stan Smith described his time as mayor as "not fun." He said the decision to settle with Izzy Poco was one the council did not take lightly.

The council has not yet officially rescinded the ordinance but will hold a public comment session and vote on the issue July 7. Statements by both the council and the town's attorney suggest that the repeal has been all but officially decided.