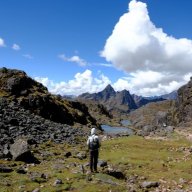 Joined

Jun 10, 2020
Messages

205
Every year I have to make at least one trip out to Escalante and due to being too busy at work this year, I almost didn't make it out there before it got too hot. There were quite a few hikes I was debating between for this weekend but in the end opted to go for the Gulch and Horse Canyon loop. It has been on my radar for a long time and was confident there would be plenty of water and was hoping to find some solitude as well. My hope for solitude was almost crushed when we got to the trailhead and saw probably 15 cars there. I'm not sure where all of these people were though because during the hike we only ran into 3 other groups.
It was a little tough to find much on distances or exactly how long it would take for this loop but I figured we would plan on doing it in 2 or 3 days depending on if we wanted to add any side trips or if we moved slower than expected. We ended up being able to move pretty quickly along the trail and completed the loop in 2 days spending our one night along the Escalante river.
The upper part of the canyon is interesting but it is dampened by the fact that there is a lot of cow activity in the area. The craziest part about this upper section was that there were 3 dead cows actually in the water in the creek. There was also another dead cow that we passed in the first couple miles. We actually didn't see too many live cows (Barely more than dead ones) but you can tell they spend a lot of time here.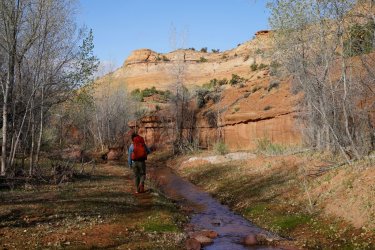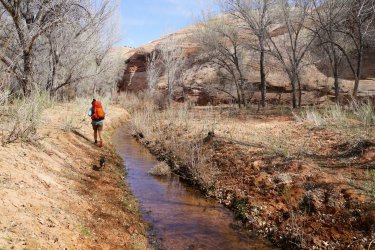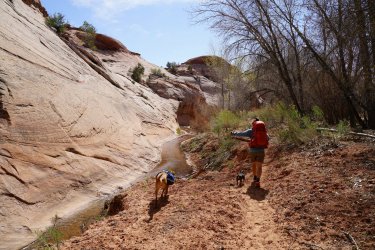 The second cabin you pass by on the way down the canyon. This one is in much better shape and seems like it is still in use.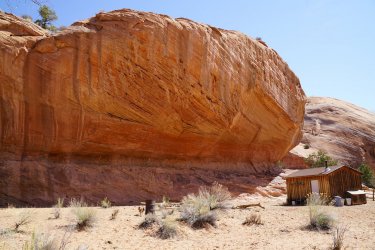 After the second cabin the canyon started to get more interesting. The walls were getting taller and eventually we got to a cool spot where the canyon narrowed up a little. It also seemed like the signs of cows was way less down past the cabin.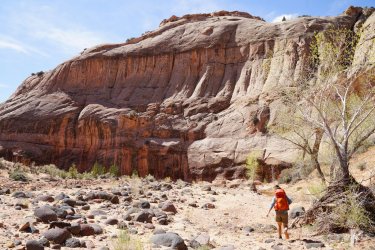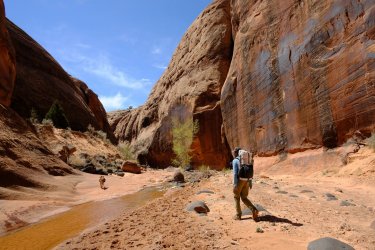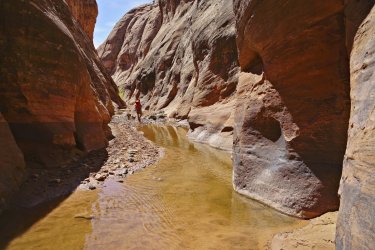 Not too long after this narrower section we arrived at the climb out of the canyon on the right hand side. We dropped our packs and decided to walk further down the canyon and take a look at the narrows that we were avoiding by climbing out of the canyon. If you really wanted to, I bet you could go down the canyon here if you had some short ropes but you would definitely be getting pretty wet.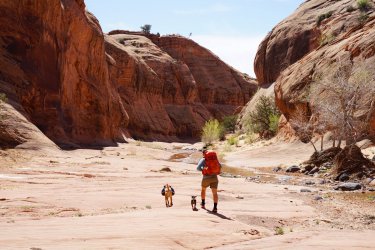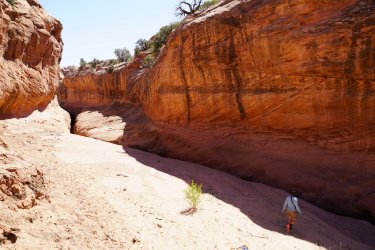 It was only about 5 minutes down the canyon to get to the narrows. After looking around for a little we walked back up to the climb. I was a little concerned about this part before the trip since neither of us are really climbers. I had read that you may need some rope to haul packs up and if the climb was too much for us then we had considered walking back to up the second cabin where you can easily get out of the canyon. This would have meant retracing a mile or two back up the canyon so I was hoping the climb wouldn't be too bad. Looking from where we dropped our packs, it looked like we may need to haul packs up so I started digging through my pack to get rope out. But by the time I got it out my wife was already at the top and saying that it was pretty easy. Getting the dogs up also wasn't too bad. Our little min pin was trickier since we didn't have a backpack or harness for him but there were a couple small slanted ledges on the way up that I was able to place him on and help him up. Our bigger dog Marmot was a little easier and she climbed up most of it on her own but we did tie some webbing onto her backpack and helped her towards the top. I realized I didn't take any photos of the climb, but overall it ended up being a lot easier than anticipated and like I mentioned above. It wasn't even hard enough that we needed to take off our packs.
We did have some nice views of the canyon once we climbed out and navigating over to the climb back into the canyon was easy. There was also some minor scrambling to get back down into the canyon.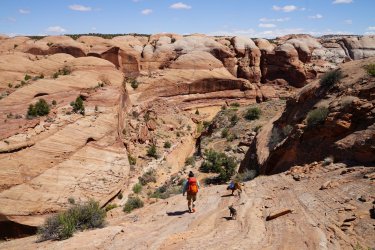 Once back into the canyon there wasn't really a trail anymore and we just walked down the creek basically the whole way with some minor bushwacking. This was a really nice section of canyon and towards the bottom there was a great overhang.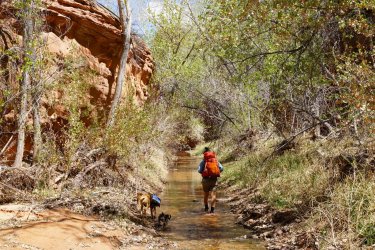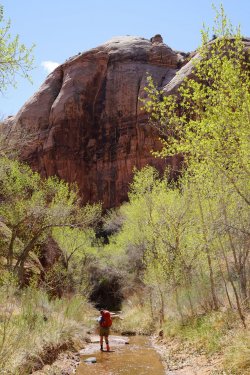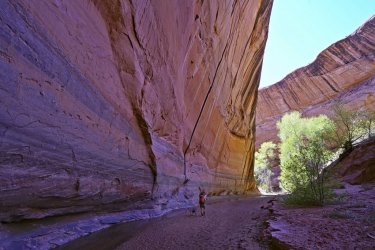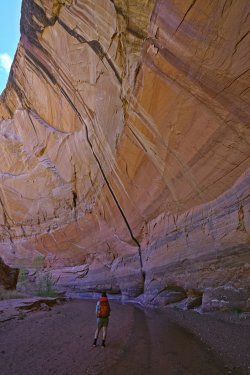 We hit the Escalante river and I was again pleasantly surprised that there was a pretty decent trail along the river. I had expected this part to be a little miserable. This section of the Escalante river between the Gulch and Horse Canyon was also way cooler than I had expected it to be and it was probably the highlight of the trip.
While walking along the river we actually ran into an Andrew Skurka guided group. I didn't realize it until they passed but it would have been cool to chat with him for awhile. After about a mile of walking along the river we stopped and made some dinner. We generally just hike all day long so it is pretty normal for us to stop and eat dinner and then continue hiking for awhile before we set up camp.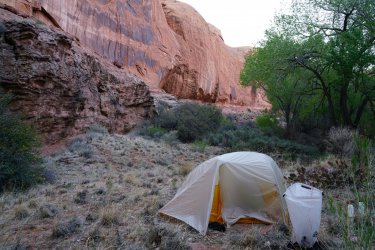 The next day was where the best section of the Escalante river on this trail was.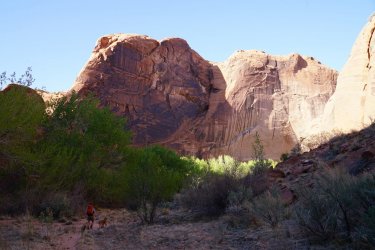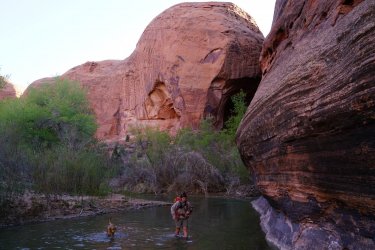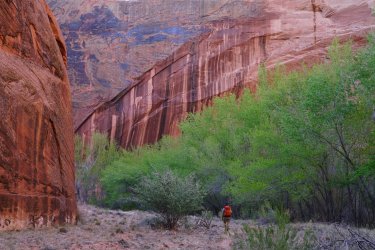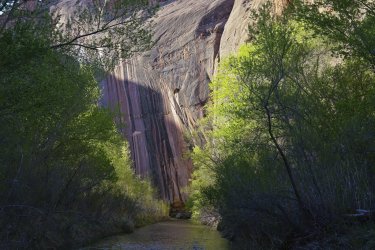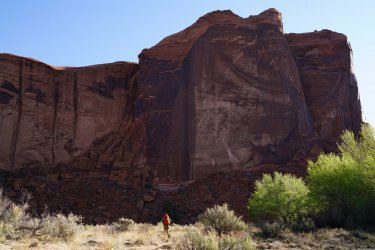 Getting to Horse Canyon was a really nice. It was flat with very little vegetation and we were able to just cruise up the canyon. The scenery here wasn't too bad too.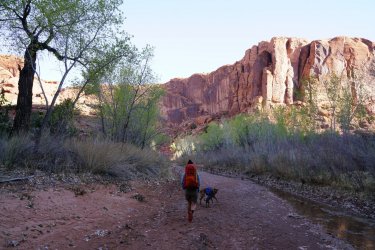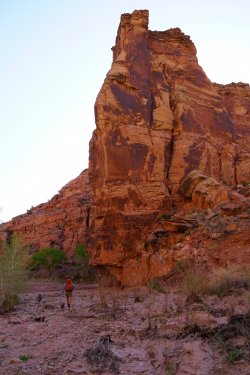 We got to where the horse canyon road ends and that was also where the water dried up. So we filled up our water, knowing that we weren't going to be running into anymore until we got back to the Gulch. We continued along the road for awhile and this is where we made our first mistake. I had thought the trail climbing out of Horse canyon was going to be really obvious but it is fairly easy to walk by. The annoying thing is that I looked at the exact spot where the trail was and thought that it looked like a pretty good way to get out of the canyon but I didn't actually see the trail and like I said above, I thought we would easily see the trail. We ended up walking to Wolverine Canyon but turned around there since I knew the trail out of the canyon was before Wolverine. On the way back I saw a faint trail that looked like it possibly could climb out but it ended going nowhere. I did get a nice view out of it though.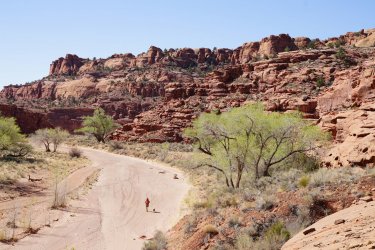 I climbed back down and after walking along the cliffs we found the well worn trail. In the above photo, the trail is just on the other side of the first hill in the center of the photo. It was a really good trail about 90% of the way up. At that point we lost the trail again but saw a saddle that above us that looked like where the trail most likely went. We got up to the top and realized we had made another mistake. Between us and the way we were supposed to go was a fairly big canyon that looked like it may be difficult to make our way across. To our left was a big sandstone dome and we decided to go slightly in the wrong direction and walk around the dome. Again, not a great decision and we ended up getting to another canyon that was even more difficult to cross. We ended up traversing across one of the domes and then working our way down to the sand. Overall, I think we just left the trail a little too early. We shouldn't have climbed up to that first saddle. We did get a decent view of the route ahead of us from the dome we climbed up though. Just a lot of sand ahead of us.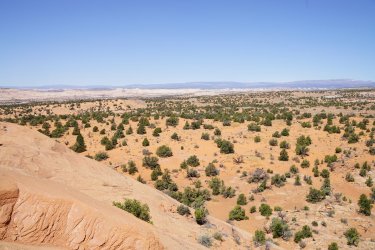 This was the toughest part of the hike. It seemed like endless miles of just deep sand and April is still a little warm for Escalante. There were some trails along the way but they would often disappear and then a little while later we would stumble upon another trail. Luckily we happened to be on a pretty good trail when we hit Halfway Hollow and it led us right to an easy way to cross the canyon. This is basically what the whole hike across the top was like.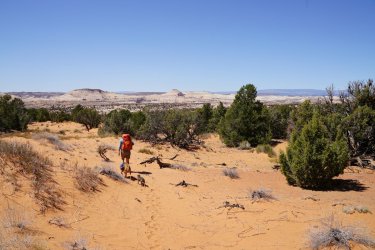 I had thought we were going to drop into Kings Bench canyon and then continue down that canyon into the Gulch but we ended up finding a really nice trail that took us down a smaller side canyon that made getting back into the Gulch very easy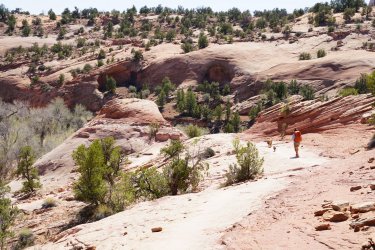 From here, it was a pretty easy walk back to the trailhead and we made it back well before dark even with our navigation errors earlier in the day. Overall, it was a really nice trip and like almost everywhere in Escalante, the scenery was spectacular. That is one bad thing about Escalante. There is just too much to do out there. But I did check off one of the hikes off of my long list.