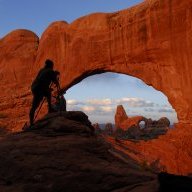 Feed the Rangers, not the wildlife!
Joined

Jan 27, 2012
Messages

46
Back by popular demand...sort of.
I thought I'd post some of the photos that my wife Linda shot. Most of them are of me, which is her job.
Striking a studly pose somewhere along the Fins n Things trail.
The paved road leading into the Needles District of Canyonlands.
We stumbled across a cave and met this harmless bunny.
Heading up the Joint Trail.

You'd look like this, too, if you'd driven over Elephant Hill for the very first time.
Somewhere out in the Needles.

At the Silver Stairs.
For whatever reason, I make Linda nervous when I do this.
In the Land of Standing Rocks.

This is what happens when your Nikon D200/Tamron 18-270mm decelerates against a piece of Entrada Sandstone. I've used many lenses in my time, and this is the first one I've seen with a chunk sticking out of it. This damage manifested itself two days after I smacked the lens against a rock. The autofocus is wonky, and if you want to zoom the lens, you have to pull on the filter...the barrel just spins around doing nothing...but I can still shoot with it. Good thing I work in a camera store and get an employee discount.
Somewhere along the Dollhouse Road near Teapot Rock.
Overlooking Hite Marina, still making Linda nervous.
Driving across the CCC-built bridge at Hell's Backbone. The drop below was a couple hundred feet.
Linda and I, along with our newfound Needles District camping friends Rob and Judy from Washington, somehow manage to spell the name of our home state correctly.
Video of our turn on Black Bear Pass.
Video of Fins n Things.
I urge ALL of you to figure out some way to get your vehicle out to these areas. Do some research first, though, and save your pennies. If you can camp on a regular basis, an adventure like this can be done relatively cheaply. For the entire trip, the most we paid for a motel room was in Moab, at $107. Most averaged about $75 per night (Super 8s and Days Inns, mostly, plus five days at the Best Western in Ouray that was still under a hundred per night.) The permit for camping in Canyonands was a flat $30 for three nights. The Ouray Jeep Jamboree was $250 per person, which included meals. Our major expense was gas, at about $1200.
Worth. Every. Penny.
Get out there and see these places while you're able...you're not gonna be young forever.