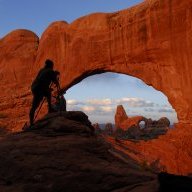 Feed the Rangers, not the wildlife!
Joined

Jan 27, 2012
Messages

46
And the adventure continues...
From Cortez, we headed into Durango, then north on US 550 to Silverton. We made it to the overlook just as one of the Durango & Silverton Narrow Gauge Railroad steam engines was pulling out of town.
In the summer, they run up to three trains a day from Durango. It's a great ride.
It's fun to stand next to these things. They're alive. Dripping water, hissing steam, radiating heat. You can smell the smoke and taste the cinders in your mouth...I wish the photo did it justice.
Of course, the engines are pretty old, and sometimes break down. This one did, and a man with a very large wrench showed up to fix it. Where does one go to school to learn how to fix steam engines?
One of the restaurants in town has a lifted Checker cab. There's also an M3 halftrack parked in front of the VFW.
US 550 is called the Million Dollar Highway. Apparently this has to do with how much it would cost to install guard rails. You really have to keep your eyes open on this road, not so much for the tight switchbacks but for the crazy locals who have no problem with passing on blind corners. (I recently saw a Discovery channel program about "Hell Roads"...US550 was one of them.)

Ouray from above.
We had a reservation at the Best Western in Ouray for Tuesday through Saturday, but somebody there dropped the ball and only had us in for two days. I turned my keys, opened the silo doors and released all safeties...they put us up in a condo property in town for the same rate. Nice digs.
We were just in time for the 10am deer show. This guy was just strolling down the sidewalk, looking for crabapples.

We were in town for the 24th Annual Ouray Jeep Jamboree. We got in on Tuesday and had some time to kill before the jamboree started officially Thursday night (trails on Friday and Saturday), so we consulted our Charles Wells Holy Book and headed off for Clear Lake.

Around 11,000', some columbines were still blooming.
A pika, related to rabbits.
Clear Lake, just before it started to snow.
From Clear Lake, we headed for some nearby mine ruins. Along the way, we had a transmission temperature light come up on the dashboard. We stopped and let the engine run for a while, like our manual said. Then we saw something large moving in the meadow way across the valley.
The Libby came up with the warning light to get us to stop so we'd see this bull møøse. We watched him for at least an hour. I was hoping he'd come into the stream in the valley, but no such luck.
By the way, a møøse once bit my sister.
No realli! She was Karving her initials øn the møøse with the sharpened end of an interspace tøøthbrush given her by Svenge - her brother-in-law -an Oslo dentist and star of many Norwegian møvies: "The Høt Hands of an Oslo Dentist", "Fillings of Passion", "The Huge Mølars of Horst Nordfink". . .
Mynd you, møøse bites Kan be pretty nasti...but I digress.
Another handy waterfall near the trail.
We saw very few Liberties in Ouray, but this example from Missouri looked very nice.
Coming up next...an unofficial Jeep Jamboree run to Telluride via Black Bear Pass.
View Part 6, Black Bear Pass