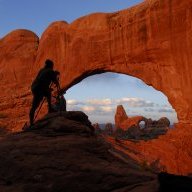 Feed the Rangers, not the wildlife!
Joined

Jan 27, 2012
Messages

46
The expedition continues. We head into the Needles District of Canyonlands National Park to take on Elephant Hill and camp at the Devil's Garden.
The beginning of the Elephant Hill trail. It doesnt begin easy, as there is a difficult climb up from the parking lot.
We had met up with a couple from Washington state, driving a rented Rubicon with what appeared to be street tires.
The view from the top of the backside of Elephant Hill. The gray area in the narrow slot is the trail leading down.

Since we had a bit more offroad experience than our Rubicon-riding friends, we were de facto trail leaders.
At one point along the trail, it becomes one-way, which is a good thing in a narrow slot like this.
Our friends were also videographers...note the GoPro camera mounted on the PVC boom above the Jeep.
The view from our campsite at sunset.
A small storm rolled through, not enough to soak the trail but enough to produce a little rainbow action.

Our campsite at Devil's Garden site #1. Three of the four sites are under rock overhangs, so our tent never even got wet.
The next morning, we headed down towards Chesler Park. This is SOB Hill, which was fun but not too difficult.
The hike to Chesler Park is called the Joint Trail...here's why.
The view of Chesler Park.
The route through Devil's Lane back towards the campsite.

We also drove out to the confluence of the Green and Colorado Rivers.
The top of the Silver Stairs, a set of sandstone steps headed downhill.
Our Jeep Commercial photo.
We exited the Elephant Hill trail triumphantly, but alas, there was nobody in the parking lot to witness my wife driving the Liberty off the trail.
I had ordered trail stickers ahead of time, and we wasted no time applying our badges.

We left space for our next adventure - the Flint Trail into the Maze District. Stay tuned, fellow Liberteers...
View Part 3, The Maze