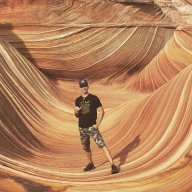 Joined

Aug 20, 2016
Messages

49
With a forecast of mid 80's here in Western Montana last weekend, a couple friends and I decided to get a nice overnighter in. Here in Missoula, the snow level has risen well above 6000 feet, so I convinced them to join me to a place they had not been before. I also decided this to be the perfect weekend to take my dog for her first trip to stay the night in the backcountry. About an hour and half drive West of Missoula, in the proposed Great Burn Wilderness, along the Montana Idaho border, is Heart Lake. Once getting to the trailhead, we quickly realized that snow was going to be more of a factor than I had anticipated. It is a short hike up to the lake, just under three miles. On the way up, we passed a couple day hiking parties who said they were unable to find the trail the last half mile to the lake. I had been to the lake once before, and figured we could find our way up. After a mix of slipping, sliding, and post holing, we made it up to the lake. We found a single patch of "dry" ground to fit two tents.
While setting up camp, we noticed a pair of florescent orange skis wading along the lake shoreline. A backcountry skier was on his way up to the Ridgeline behind Heart lake, in search of a gully to ski back down. A few hours later, as we cooked dinner, we saw his tiny profile on the ridge, and him ski down the gully, with his two dogs in hot pursuit. A pretty cool sight to watch while eating a freeze dried meal. On his trek back, we offered our praise and a sip or two of whiskey, as we settled in for the night. We ended up having the entire lake to ourselves after that. Overnight, it got down below freezing, so my pup got a big hug into the morning to keep warm. All in all, a great little trip, and good practice for snow, as in just over a week, I will be heading deep into the Bob Marshall Wilderness with
@Joey
for a six day, 60+mile trip to the Chinese wall!