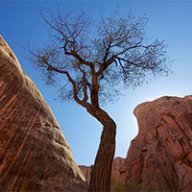 Joined

Aug 9, 2007
Messages

12,939
This is split from the Crystal Springs trip report:
http://backcountrypost.com/threads/crystal-springs-and-beyond.4699/
Nick, this is downright awesome. Reading your trip reports in Glen Canyon will take on a new light for me. When I left for a trip this past week, I stopped at the bookstore on the way to grab a book that's been on my reading wish list; Emerald Mile by Kevin Fedarko. I'm only about 100 something pages in so far but I'm captivated. Not sure if you've read it or not. It's technically about the fastest run of the Grand Canyon during the 1983 flood, but it's about way more than that. It goes into great detail on the southwest as the last unknown American frontier and John Wesley Powell's epic first journey down the Colorado with his crew of 9 men, the creation of the Imperial Valley in CA, etc. Okay I'm for rambling, but let's just say after reading this, I'll be going back and re-reading al of your Glen Canyon TR's as well as many other people's Grand Canyon TR's with a renewed interest. Great report and pics. Standing safely in the middle of a violent flash flood must have been exhilarating. And if you haven't read Emerald Mile, pick it up. I think you'd really enjoy it.
Awesome, can't wait to discuss it!
I started into it on my last trip to Iceberg Canyon in June. Loved it but left it on the boat and that kept me from continuing. Just went and spent 5 nights out there and smoked through the whole thing. Awesome, awesome, awesome book. I would have liked a bit more about Glen Canyon and more science about a potential dam failure (although what was in there was better than anything I'd heard before, by far), but that's not so much what it was about, so I can't complain. Great book, thanks so much for the recommendation. I don't read a lot of books so take that as an extra big thanks. Everyone who has even the slightest interest in the Colorado River basin, Glen Canyon, Grand Canyon, John Wesley Powell, etc. should read it. I'm now more than ready to shell out thousands of dollars to float the Grand after doing so. 474 5-star reviews on Amazon don't lie. Here's the link:
http://www.amazon.com/gp/product/14...&tag=backcountrypo-20&linkId=NLJNNQC7GQMQSZ52
Here's the 'trailer' for those who haven't read it: