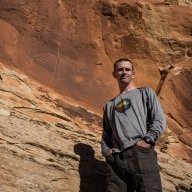 Wildness is a necessity- John Muir
Joined

Jan 4, 2014
Messages

1,099
August 4th 2018
Despite the Chandler Family Glacier Trip being a bi-annual affair for a few years now, its also been those few years that I have been working as a seasonal ranger during the summer. I was pretty psyched to finally get the chance to go back. So far it seems to be the one perk of my year round job, summers aren't busy so I can easily get away. So I got a whole week to hang out with
@chandlerwest
and
@Jeffrey Chandler
up in my favorite place on Earth.
As I said, these two have been coming up to Glacier a lot over the past couple years, and in that time my brother has become a bit more adventurous than the little boy who once refused to walk a trail because it had a bushy 30 degree slope next to it, one in which he would surely fall to his death from. We've since come to call that his "psychotic year" for similar behavior in that time span. Growing up... Now the darn kid does quite a bit of off trail stuff and he got my dad into it as well. Dad was the trail hiker, especially in Glacier. So as Jeff worked on getting dad to more places off the beaten path they've become even more attached to this place. In the approach and planning of this trip I was repeated asked "where have we gone that you might want to visit?" So we compiled a small list and figured them around other adventures planned, resulting in our first day being an easier day toone of the summits surrounding Logan Pass: Mt Oberlin.
Oberlin would be a good warmup day. Not too long, not too strenuous, it would give our acclimated to a long drive bodies a chance to realize we would no longer be driving seemingly forever. Waking up at a reasonable hour we caught the park's shuttle bus system and went to the pass.
Today would be the cloudiest day of the trip, making for really cool lighting and photography conditions. My giddiness of this and being back in Glacier probably made me seem like a madman to the rest of my family.
But I mean, come on, who doesn't love it when morning sunlight pops in and out of clouds, spotlighting this and that and so many more pretty things?
The route up Oberlin is very distinct, I would guess it is one of the more popular off trail routes in the park and being in the alpine ecosystem just a little concentrated use beats a trail in pretty well. That said, the Hidden Lake Trail looked like a crowded superhighway compared to what we were on, and we only had a couple groups pass us in our slow photographic journey up the hill.
We quickly hit water and boy did that slow us down. Water+flowers+cool lighting+mountains+giddiness..... Yeah kinda the bread and butter up here.
One of the fun changes that has happened since I've last been to Glacier is Jeff's growing desire to learn about the natural world, particularly geology. So while it used to be that he had a creepy ability to pull random hiking facts out of nowhere, now I can ask him questions about a far wider array of things and he has a fairly informed answer or postulates for future research. When I asked Jeff where one finds stromatolites, lithified ancient mats of algae and bacteria that are the earliest evidence of life on Earth, he quickly found me a couple when we hit the right rock layers.
Fairly quickly we gained elevation and the mountain was before us. From a distance the cliffs looked imposing but on closer examination they were a blast of interweaving cracks to venture through.
Soon we found ourselves on the summit, watching clouds move by, and fending off Golden Mantled Squirrels that were interested in our food. We hung out up there for a good long while, surprisingly without more human company. Twas quite nice.
We had a pretty nice and easy mosey down from the summit too, back to the mayhem of Logan Pass. Holy cow, a lot of people visit this place. That was a big wakeup for me. I had been here once for a whole August trip and did not remember that part of the experience.
On the way down I tried to get Jeff to drink from a waterfall without filtering it. He refused for a bit and then challenged me to do it. So I did, and feeling he was now locked in honor, he followed suit. So I captured the moment, Jeff drinking his first ever unfiltered water. As my friend Whitney vocalized the next day, "Where can someone drink clean water if not up here?"
It was a good beginning to a week of adventure. The next day would be one of the greater outdoor experiences of my life I would say. Jeff and I were glad we had a warmup day for it. Click for
Day 2
, and
Days 3 &4
.
Last edited: