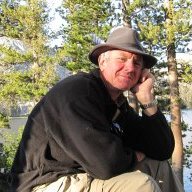 Joined

Sep 30, 2014
Messages

709
Many of you know that I do some volunteer trail work in the Sierra. Since I am retired, I find it's a great way to spend more time in the mountains, do some good for the areas I love, and meet some pretty interesting people as well. And we hit trails that are not heavily used, learn new skills. enter areas where permits might be hard to get, and see the wilderness in a while new light. What's not to like?
This post is to encourage anyone who might be interested to take the next step and reach out. While this post is specific to the Mokelumne Wilderness, I also volunteer in the Desolation Wilderness and the Stanislaus and Sierra national Forests--if any of those would be more interesting to you.
Trail work will shut down soon, but we can still share some ideas and plans for 2023, and hopefully we'll be able to hit the ground running—or at least at a slow jog—once the high country opens up again.
If you're anywhere near the Sierra, I've created a website for the Mokelumne Volunteers, and I would welcome any input on it---from gentle suggestions to screaming criticism. I hope you'll help me make it effective. Here's the link:
https://balzaccom.wixsite.com/mokwildvolunteers
You'll note that there is not only a general website for anyone who might be interested, but there is also a members' section and a forum for those members. If you could sign up as a member, we'll be able to create a community forum where we can share some of the info we all collect as we get out—from trail work that needs to be done, to wildlife sightings, to plans for future trips.
(One of the Mok Volunteer members had a great example of this recently when he spotted and reported a fire while doing some trail work—which was quickly attacked and extinguished thanks to his keen eyes!)
Finally, I just want to thank anyone who helped out any way, and anywhere. As we move forward into winter, I know we all have a lot on our plates, but I hope to lay out some real objectives for 2023 in the Mok—and we would love to be able to count on you to help out. If there are specific trails or activities you are particularly interested in or enthusiastic about, please let me know.
I hope we can create a group of volunteers who keep in touch over the winter months. Spring will be here soon...and it will be time to get back out into the mountains.