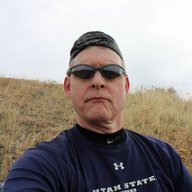 Joined

Dec 23, 2013
Messages

3,551
This hike is a lollipop loop that starts at the entrance of Cades Cove, heads up Anthony Creek, along Bote Mountain, 3 miles along the AT, then down the Russell Field Trail back to Anthony Creek. This day hike was a little more substantial than the two shorter hikes from a few days earlier that we completed, measuring in at 14 miles and a fair amount of uphill to the AT.
My son and I started at the trailhead at 9:00 am and made our way up Anthony Creek. My daughter had caught a cold and did not feel well enough to join us on this one. Anthony Creek was pleasant enough as we hiked along in the beginning what appeared to be an old Jeep road. The trail crosses Anthony Creek a number of times but each crossing has a footbridge that spans the creek. Along our way, we saw some wild turkeys that were fascinating to watch. It took us not quite three hours to reach the AT and I must say that I don't think I have ever sweated as much in my life as I did climbing the 3000 ft to the top of the ridge. It just poured off of me; rendering my sunglasses totally useless. It turned out that the Southeast was setting records for high temperatures for this day and the mountains got into the low nineties. Along the Bote Mountain portion of the trail, we hiked through Mountain Laurel tunnels that were pretty cool. It sort of reminded me of Mirkwood from the Hobbit movie.
Once we reached the AT, it was a short hike to the Spence Field Shelter where we stopped for lunch. While eating our lunch, some folks who were hiking the AT through the Smokies from north to south joined us with their lunches and soon a different group that was hiking the AT from south to north through the Smokies arrived for a break. Both parties asked if we had seen any bears near by. We told them that we hadn't and they proceeded to tell us that this shelter had a lot of bear activity and that back in May a black bear had bitten a hiker sleeping in his hammock on his head. I guess that explained the posted signs not recommending that you sleep in a hammock at this shelter.
The group coming up from the south had already fallen behind their itinerary by a day. The mom was struggling a bit but everyone else seemed to be in good spirits. We finished our lunch, wished everyone well and good hiking ahead and then headed on along the AT to the Russell Field Shelter located about three miles down the trail.
The hike along the AT was special with the Mountain Laurel and the Flaming Azaleas in full bloom along our route. It didn't take us long to reach the Russell Field Shelter, where we stopped again for a short rest. This shelter had a hitching post for multiple horses nearby that the Spence Field Shelter did not have. While on break, three ladies arrived at the shelter for a short break. We could hear them coming down the trail from a ways off due to their constant chattering. They continued to converse while breaking at the shelter and refused to acknowledge our presence at all. Most of their conversation seemed to be around black bears and their avoidance. Now, I'm a silent hiker for the most part and enjoy the sounds of the wilderness surroundings as opposed to people chatting non stop, but I understand some are just more talkative than I am so I told Hugh II that we would wait for them to finish their break and let them get a good lead on us heading down the Russell Fork Trail before we would follow the same path. We ended up staying at the shelter about thirty minutes after they left before hiking out.
Along the Russell Fork Trail, we again passed through Mountain Laurel tunnels and eventually we came to backcountry campsite 10 which was closed due to aggressive bear activity. I did a little Irish jig around the campfire ring and told Hugh that the aggressiveness was now gone.
He had this look on his face that told me he thought I was crazy.
I told him not to worry, that the apple doesn't fall far from the tree.
Just after leaving the campsite, we saw more wild turkeys. Eventually, we reached the intersection with the Anthony Creek Trail again and hiked out to Cades Cove.
This was a fun hike with the wildflowers in bloom at the higher elevations. I would have preferred a bit cooler temperatures though. I ended up catching my daughters cold and was pretty much out of commission for the last two days of our vacation.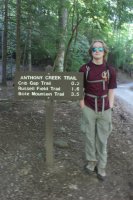 Near the trailhead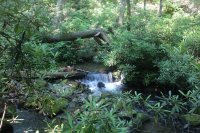 Anthony Creek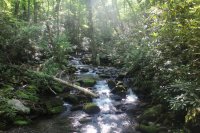 Another view of Anthony Creek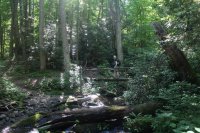 Scatman on a footbridge over Anthony Creek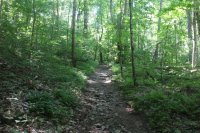 Anthony Creek Trail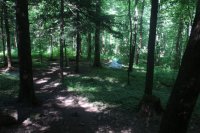 Tents at backcountry campsite 9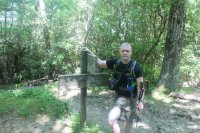 One sweaty mess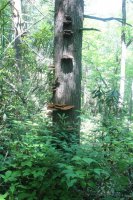 Fungi on a tree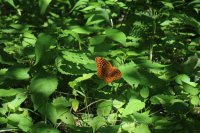 Butterfly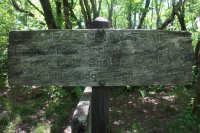 Made it to the AT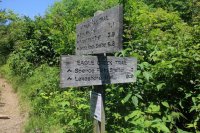 Signpost on the AT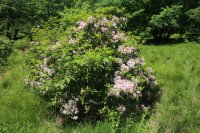 Flowering shrubbery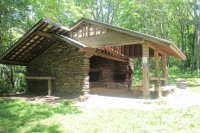 Spence Field Shelter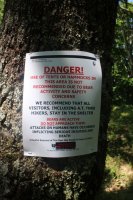 Hammock and tent warning at the Spence Field Shelter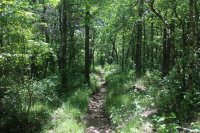 The Appalachian Trail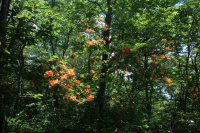 Flaming Azaleas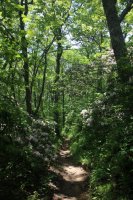 Mountain Laurel along the AT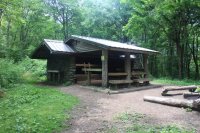 Russell Field Shelter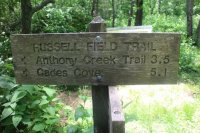 The way back to the trailhead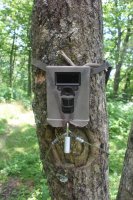 Motion Camera at Russell Field Shelter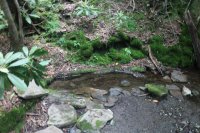 Water source (spring) for the Russell Field Shelter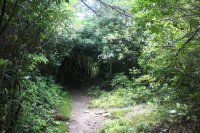 Mountain Laurel tunnel ahead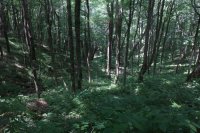 View from the Russell Field Trail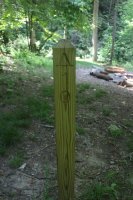 Signpost for backcountry campsite 10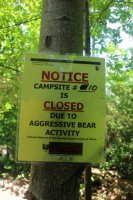 Notice of campsite closure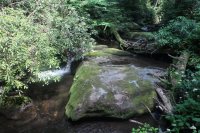 Back at Anthony Creek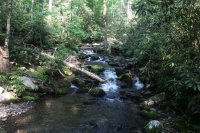 Anthony Creek