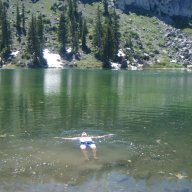 Joined

Apr 27, 2016
Messages

483
My wife and I decided to visit Moab for Thanksgiving again. We also had my Father-In-Law and Mother-In-Law tag along. We were trying to give them just a taste of the area and show them some of the highlights since they have never been there.
Day 1 - Wednesday November 22, 2017
Mesa Arch
Aztec Butte w/granaries
False Kiva
Grand View Overlook
Drive to Canyonlands and ate lunch at the visitor center. We then drove to Mesa Arch and did that hike quickly just to give my in-laws a quick look at the overlook. We then hiked Aztec Butte along with the side trail to the granaries. The climb to the top of Aztec Butte was a good warm up for what was to come the next day. I'm pretty sure my Mother-In-Law thought we were trying to kill her. After that we headed down the road a bit and took off towards False Kiva. Last year when we hiked this we had it all to ourselves. This year we ran into a pair of people that were heading out and then on the way in found some people that were trying to rely on their GPS to get them there so it had them bouncing all over the place. I finally had them just follow me instead of tromping through the crypto. I really enjoy that hike and spending time in the alcove. The only issue this year is that it was quite a bit warmer and the sun was beating down into the alcove so we didn't stick around for too long. After hiking back we drove to the Grand View Overlook and hiked the short trail to watch sunset. Overall I think this was a pretty good introduction to Canyonlands for my in-laws.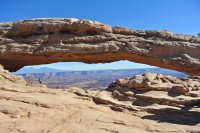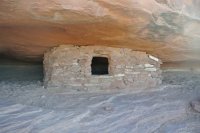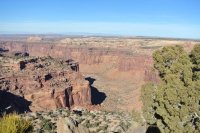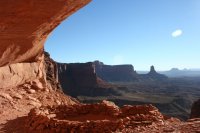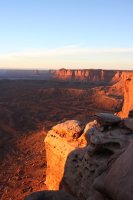 Day 2 - Thursday November 23, 2017 BLM and Arches
Cable Arch Adventure Tour
Delicate Arch
Double Arch
We were picked up from the hotel by Moab Canyon Tours and were driven out to our short adventure tour. Along the way we stopped by the Birthing Rock and looked at the various petroglyphs. For some reason unless I was specifically told that was depicting birth I'm not sure I could have visualized it, maybe I don't have a good imagination. After that we drove on a little ways and then Mike, our guide, ran us through some of the safety issues and was sure to spend more time with my Mother-In-Law. This was her first time wearing a harness or being attached to a rope. The hike went to the top of Funnel/Cable arch. This included a bit of scrambling which was getting my mother-in-law nervous be our guide was great and kept encouraging her and she had not problems. After that we had a nice view of Behind the Rocks. My wife and I just wanted to wonder off back there for a while. I was guided back to a small ledge that allowed me to take pictures as the others rappelled off cable arch and then after that I rappelled down. We then hiked to our second shorter rappel that put us at the bottom of a short slot canyon. The slot canyon was pretty entertaining because my Mother-In-Law was sure she was stuck at one point until my wife reminded her that she was wearing a pack, after removing the pack she was able to squeeze through. We dropped out of the slot and scrambled back down to the car. A pretty short trip but a lot of fun. The guide was really good with different levels of ability and was able to discuss some of the history, geology, and botany of the area.
After arriving back at the hotel we quickly headed into Arches. We wanted to show my in-laws Delicate Arch. That trail is like a highway of people, but still worth it once you round the corner and see that arch. There were so many people that we didn't even attempt to get pictures under the arch. We then headed to the Windows Arch areas and did a short hike to Double Arch before heading out to dinner.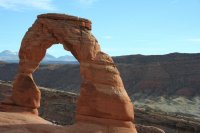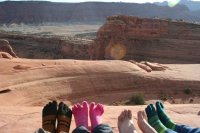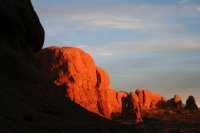 Day 3 - November 24, 2017 Grandstaff Canyon (Negro Bill Canyon)
I have wanted to hike this trail for quite a while but it just seemed that we always ran out of time or had something else planned. So after checking out of the hotel and grabbing breakfast we hit the trailhead and began the hike up the canyon. This is such a different type of hike than anything else we have ever done in the area. The water along the entire route made it feel like a completely different place. We hiked all the way to Morning Glory Arch, which is quite impressive. We looked around for a bit and I kept hearing a strange sound. I realized that as the canyon was beginning to warm up frogs along the water were starting to become active. We started to to head back as more and more people began filing in. By the time we reached the trailhead every parking spot in the main parking lot, overflow, and along parts of the road were filled up. I was quite glad that we began earlier in the morning.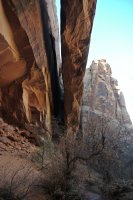 Overall a good trip. We always want to stay longer but we all had other commitments so had to head home.