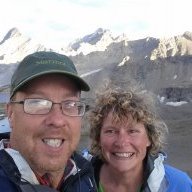 Joined

Jan 23, 2014
Messages

167
Teton's Indeed!
Doug and Anita Tour
Teton Crest Trail
August 2015
We have hiked the trails of Northern Minnesota and Michigan's Isle Royale, Glacier Park Montana and the Wind River Range in Wyoming. So we set the bar high in terms of beauty and physical challenge and the Teton's continued that trend. It's like all those places rolled into one. With towering peaks and deep rugged canyons and lush forested valleys teeming with wildlife.
We had just finished a incredible a week , with some amazing people in the Wind River Range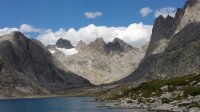 and we had afforded ourselves a extra day to resupply and do some laundry before we started our much anticipated Teton Crest trail adventure so we had a leisurely drive from Pinedale to a busy Jackson Hole. Luckily we would avoid the hustle and bustle by taking the beautiful drive over Teton Pass to the little mountain town of Victor, ID.
We spent our time organizing our gear and reloading the food and enjoyed a great dinner at BIG HOLE BBQ and a stop at the ice cream shop, all within walking distance of our cabin.
The plan was to be up early to meet Joey at 8 am, he had graciously offered to shuttle us from the String Lake trailhead back to the Teton Village to catch the first Tram up.
I gave him a call to finalize details.
He was good to go.
So were we!
We arrived to
@Joey
's smiling face, this is the first time we have met in person.
Up until this point it was all arranged over the Backcountry Post. A great resource for all hikers.
We left our car here at the String Lake trailhead. Our exit point in 5 days.
Joey was going to drop us off in the Teton Village, some 40 Miles away.
I know many BCPer's have had the good fortune of hiking with Joey. He told us a great story of A VERY close grizzly with cubs encounter at Morningstar lake in Glacier.
A special thanks again to Joey, the genuine article, a true free spirt.
We made it to Tram at 9:15.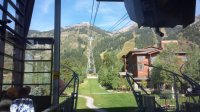 Admittedly with a few butterflies as any new adventure begins. The tram ride to the top is beautiful, but short and expensive. In hindsight, I think we might chose to hike up Granite Canyon instead. The tram drops you off at 10,500 ft. But you immediately give it back by curling down along a long slope on Rendezvous mountain. But you are treated to great views once you break out of the forest into the talus. You can see Grand and all the other assorted Teton's peeking out many miles to the north. Hard to believe we will hiking at their base in a few days. The trail was in great shape, wide and smooth,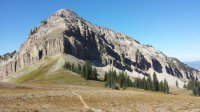 unlike the rugged Wind's trails where you can't take your eyes off the path. Here you had time to look around and take it all in.
I had read in my research that our approach to Marion lake involves a final steep climb to the lake. So after hiking up and down the ridges till afternoon we figured we were close as we climbed out of a deep valley. Nope, this was the other steep climb leading to the short but steeper climb to Marion. . .ooy!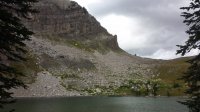 It was a beautiful lake in the shadow of Housetop mountain and the designated campsites all had nice flat pads and great views all around with the lake and mountain on one side and a vast overlook of Granite Canyon on the other. And a community bear box...Yay!
We were the only ones there. We set up camp and had a late lunch, went down by the lake for water and to try a little fishing. I could see when we first arrived that the lake was very shallow, to shallow for fish in fact.
It was a great first day in a beautiful location. There was a camp mule deer hanging around, plenty of marmots, and later that evening, we took turns spying on a young bull moose feeding in canyon below.
The views down Granite Canyon were beautiful in the ever changing light.
Woke up in the middle of the night to a bright full moon shimmering off the peaks.
Woke up to another beautiful day!
We were blessed with great weather in the Winds and it continued all through or Tetons trip.
Our plan today was to hike from Marion lake to the Death Canyon Shelf camping zone.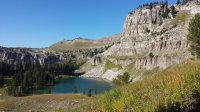 The campsite setup in the Tetons is different then anyplace else we have been. The zones are big, 2-4 miles long with signage for indicated sites which were situated in beautiful areas with great views and level tent pads, usually with water sources close by.
This would turn out to be our easiest hiking day. After a short climb from camp we crossed the park boundary into the Jedediah Smith Wilderness. It was a fairly level hike as we enjoyed the views of Spearhead Peak and then crossed over Fox Creek Pass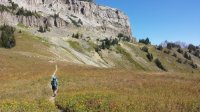 where the trail split. One way dropped down into Death Canyon the other continued on the Teton Crest trail on to the Death Canyon Shelf, a flat bench in the shadow of a series of high peaks.
Fossil Mountain, Bannon Peak, Mount Jedediah Smith and Mount Meek.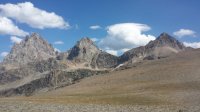 We were told by rangers that this would be the driest stretch but that there was a spring just pass the group camp so we planned to camp around there. We found a nice spot on the edge of the shelf and took a break for lunch. We considered camping there but it was exposed to any weather that might go through so we decided to move on. We did cross over a small stream so we followed it up a ways but it petered out into the ground. Anita noticed a glint further up that turned out to be an amazing full rushing spring. Yay!
Once we knew where the spring is we figured we could come back to it if we had to. We continued down the trail and found a more sheltered site among some taller trees but it was windy and setting up the tent would be hard so we moved up into the rock field and found a great spot amongst the giant boulders,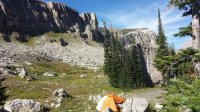 some as big as houses and we were just a short walk to the canyon edge where we spent the rest of the day basking in the sun and we even had another spring running right next to us. It is amazing how deep and long the the canyons were, with towering walls and lush forests below.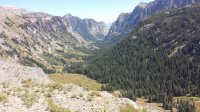 With our binoculars we could see the trail below and other hikers making the climb up. The Grand, Middle, and South Tetons along with Mount Owen were still a ways off but we're always in sight and each day they are getting closer and bigger!
We were lucky enough to have a cow and calf moose lazily browsing not far from us most of the afternoon so we enjoyed watching them, later in the evening we lost sight of them so we made our way down the trail and caught site of them again grazing among the boulder fields.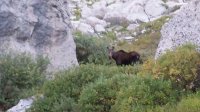 It was another incredible day! And we were lulled to sleep by the still stiff breeze blowing through the canyon and over the mountain tops.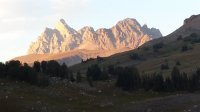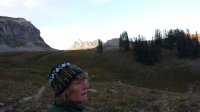 To be continued. ....
Featured image for home page: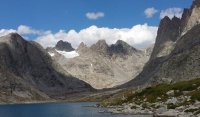 Last edited: