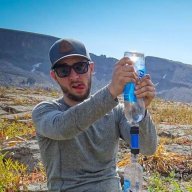 Joined

Mar 10, 2015
Messages

96
I'll be in Yellowstone on September 16th and the plan is to spend an evening and a day exploring before heading down to the Tetons on the 18th to try and get a permit for the crest trail to head out on that day or the 19th. I feel pretty set for bad weather conditions but am not feeling super confident my friend will be ready if the weather gets bad. I stumbled across this today and it just shows how rough it can get up there in mid September.
http://natekat.com/2013/11/03/backpacking-the-teton-crest-trail-epic-trip-days-44-47/
My question is, will there be anyway to see on the 18th what the weather will be like up in the mountains for the next few days or is it just so random there is no way to know for sure? Being from the Midwest I don't have any experience with the weather up in the mountains. The plan is that if the weather looks awful we would stay in Yellowstone and do a 5 day trip at the lower elevation instead. Should I be considering dropping the Tetons idea all together?
Thanks!