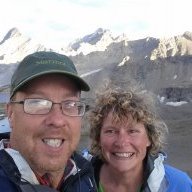 Joined

Jan 23, 2014
Messages

167
No sleeping in today! This was another big day that we had been dreaming about for months. Today we would climb up over Paintbrush Divide. But it wasn't going to be easy. We could make out the trail from our camp, as it climbed steadily along the increasingly steep mountain slope. No switchbacks could be seen, but we were trail hardened by now and welcomed this challenge. We made our way back up to Lake Solitude and true to my word, I proceed to whip the water into a frenzy, catching a few trout and missing many more. I hated to leave, but destiny awaited high above.
So we started up and up and up. It's just amazing the things you see when you climb. Hidden peaks with hanging glaciers and high alpine lakes appear. We could see our previous nights campsite far below us now.
We finally did hit a series of steep switchbacks and a long climb over boulders and talus up to a high saddle below the divide.
We had sunny skies the whole time but there was a sinister looking cloud bank inching ever closer. We had been warned of the dangers of high country lightning so when we seen the first flashes followed by resounding thunder, we froze. But we had no where to go on this exposed slope
so we hunkered down by the biggest boulders we could find and here we sat, still in the sunlight for 30 minutes as the storm slowly slid off to the east. We felt it was safe so we continued on over a few long sweeping switchbacks over talus fields and small stands of stunted trees.
We made our way up to a very windy Paintbrush Divide with more incredible views in every direction
and a panoramic view of stunning Paintbrush Canyon.
You could catch a glint of Holly lake, our camping spot for tonight, and towering Mt Woodring right in front of you.
The Jaw, Mount St John and Rockchuck Peak rising high above the narrow canyon.
After many photos braving 40 to 50 mile winds we started a incredibly steep decent, almost forcing you to run at times. It continued that way all the way to Holly lake. As we were scouting out the campsites, the storm we had dodged earlier had returned with a series of showers. We were bit melancholy as we had lunch. We had left our beloved high country.
The peaks and passes were behind us now. A hot shower and a soft bed invaded our thoughts. We decided to forgo our last night at the beautiful Holly lake albeit grey and rainy now.
We had beer and wine and Cheeto's in the car, only 5 short miles away. So that's it. We made our way down for the last time through occasionally heavy showers and a muddy trail that finally lifted as we crossed between Leigh and String lakes up to the parking area and, Yuk!, reality. But hey! We got beer and we just had the times of our lives hiking
Grand Teton National Park.
THE END!
Last edited: