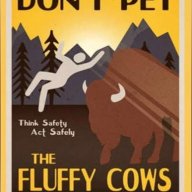 Joined

Mar 3, 2013
Messages

3,963
Caribou/Targhee NF ............ East of Driggs. Gues he thought the hammock was a Taco.
A campsite in Wyoming has been closed after a black bear pushed a sleeping camper out of his hammock, tore his sleeping bag apart, then ransacked a tent in search of food.
As
Buckrail
reports, the man was camping at Teton Canyon on the night of June 10, when the attack took place. He was able to escape and hide in his car while the bear destroyed both his hammock and sleeping bag.
The bear then made its way to a nearby tent where other campers were spending the night, before eventually being scared off. Nobody was injured in the attack, but despite the Wyoming Game and Fish Department setting traps to capture the animal, it has yet to be found.
"After the bear did not return to the site for three consecutive nights, Game and Fish pulled its trap from Teton Canyon on June 14," said the Caribou-Targhee National Forest Service in a statement. "Biologists from the agency continue to monitor the area daily."