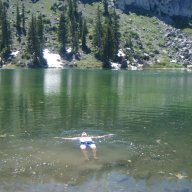 Joined

Apr 27, 2016
Messages

300
My wife and I headed out Saturday morning with the hopes of getting in a quick hike/trail run up Logan Canyon. As we proceeded to drive up the canyon we quickly realized it would be another crowded weekend.
We decided to drive deeper into the canyon in hopes of finding places less crowded than Crimson Trail or Wind Caves. We drove into the Temple Fork Saw Mill area. This is the same area as Spawn Creek that I mentioned in a previous write up, in fact the trailheads are only a few hundred feed apart.
We haven't hiked Temple Fork in a couple of years and thought it would be a good one to get out on. It is doesn't have too much of a climb and has some great scenery along the way. This scenery will turn out to be our downfall as I will describe later.
We took off from the trailhead at a quick hiking pace and then decided to start running. The trail is singletrack that is in great shape. It is a good trail for hiking, running, and mt. biking. The weather was pretty muggy for the area because of the weather that was rolling in. We figured we should have no trouble beating the storm back to our car. The humidity made the run a lot more difficult than it should of been but we trudged on. As we progressed farther along the trail we started to see the beaver activity. This stream has always had a fair amount of beaver activity but since our last trip a couple of years ago it seems that the population must have increased quite a bit. There were several new beaver dams as well as at least one large, new lodge.
At about 1.75 miles in we came across a huge downed tree in the trail. This was was down due to winter weather from the looks of it. I forgot to take a picture but it blocked a good portion of the trail. So far people have just gone up the hillside around it, I imagine by the end of summer the volunteer crews in the area will have it cleared out and the trail repaired.
After working our way around the tree we began our run again and ran into a small group hiking out. These were the first people we had seen since leaving the trailhead. We continued the run and finished up at the old saw mill site. There is some leftover equipment in the area as well as a little placard that describes the history of the area and how wood was harvested from here to provide lumber for the Logan LDS temple.
We grabbed a quick drink of water and then started our run back. As we approached the first large set of beaver dams I hear a scream behind me followed by a string of rather impressive profanity. My wife was on the ground screaming and crying and told me she heard a crack. In the middle of that she was cursing the beavers for making such scenic areas that instead of focusing on the trail she was looking at the dam and beaver pond. We removed her shoe and sock and I felt the ankle. It had started to swell but there was no immediate bruising and no gory bone protruding through the skin. I helped her down the little ways to the stream and told her to stick it in the water for a bit while I dug out the first aid kit. I forgot to warn her how cold the water was and when she stuck her foot in that elicited another scream. We were still about 2 miles from the trail head and we could see the storm clouds moving in. I gave her some ibuprophen but the only wrapping material I had was tape and she didn't want that, we have since added an ace bandage to the day hike first aid kit since we have started running. We loosely slipped her shoe back on her and I helped her start hobbling back down the trail. After going about half a mile she told me she thought she could make it without my support and told me to go ahead and complete my run. I was sure it was a trick but she insisted she was fine. So I continued my run, stopping ever half mile or so to wait for her to come hobbling down the trail. She actually moved along a lot faster than I thought.
We made it to the car and were getting cleaning up just as the rain started to move in. We stopped by Smiths and picked up an ace bandage to wrap her ankle and stopped by Caffe Ibis for a coffee treat. She has been icing and wrapping it but after going to work for a bit today decided maybe seeing a doctor would be a good idea. She has appointment later today and I will provide the update.
Details:
Distance: 5.32 miles
Duration: 1 hour 43 minutes
Moving Time: 1 hour 9 minutes (My moving time)
Total Ascent: 656 ft
Max Elevation: 6,579 ft
Equipment:
Salomon Speedcross 3 Trail Running shoes
Opsrey Rev 1.5 pack
Here is the map.
Click here to view on CalTopo
And here are some pictures.