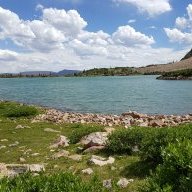 Joined

Aug 8, 2016
Messages

2,071
Due to a chronic knee problem I've had to put this year's bucket list on hold for the time being. That being said I could not stand staying out of the Uintas so I thought I would look for a shorter route to get at least one more bag night. I opted for Teal Lake accessed largely off trail from the Ruth Lake Trail. Being a bit over 3 miles I didn't know if I would be able to make it that far but figured, worst case, I could stop somewhere short of Teal Lake and make camp.
I arrived at the Ruth Lake Trail Head at about 2:45pm on a Saturday. As is usual the trail head parking lot was full but for one space which I grabbed. I headed out on the busy trail for the short one mile to Ruth Lake. There were several parties going in and coming out, most seemed to be fisherman on a day trip.
Here's a video of the trip if you like...
Looking back across Ruth Lake to Hayden Peak...
There are no marked trails going to Teal or the several other lakes northwest of Ruth Lake so I wasn't sure exactly where to jump off of the main trail. I planned on hiking past Naomi and Jewel Lakes then on to Teal. I picked a spot along the trail, just past Ruth Lake, at what seemed to be at about the same elevation as Naomi Lake. Here's where I left the trail...
Quickly I arrived at Naomi Lake...
From here I headed to the northwest for Jewel Lake. When planning my proposed route I wasn't sure I should go to the left or right of Jewel. Satellite imagery showed a steep boulder field to the left or a more gradual, but longer, route to the right. I ended up arriving dead center on Jewel at some cliffs. I managed to find a route down through the cliffs, having to scooch on my butt a couple of times to get down some moderate drops. Nothing too sketchy but enough to be extra careful, especially with my problem knee.
Now at Jewel Lake I decided I would go right along the shoreline and continue on in the direction of Teal Lake...
Travel was a bit challenging in places but nothing too bad. I ran across this beautifully lit stream bed that definitely deserved a picture...
A bit more bushwhacking and some dead fall negotiation and I arrived at Teal Lake. I had read in trip reports that there were several established camp sites along the shoreline. I headed to the right, following the well-beaten fisherman's path past several sites. I was hoping to find a location where I had a view of the east so I could watch the sunrise the next day. I ended up going all the way around to the other side and up on a cliffy area for a great view of the lake...
Alas, no east-facing locations. I headed back around to the other side and set up camp on a raised area above the lake.
Most of my multi-day trips typically involve long travel and I don't seem have much leisure time when at camp. Its usually grab dinner and hit the sack. After setting up camp I ate dinner down at the lake shore... very relaxing. I was hoping to try some star photography since I got my Sony A6600. Now I had to sit around waiting for it to get dark. Of all the times when I really would have liked a fire there was a ban in place
. I decided I would take a nap to pass the time. A view out of the tent while waiting...
Finally I saw the first star pop but it would still be an hour or so more before it was dark enough to get a good view of the galaxy. I set up the camera on my tripod and waited, laying on my back, just staring up. At this point all the birds had gone to bed. I saw a bat fly by. No wind blowing. Dead silence. I thought it would bother me laying there all by myself but turned out to be amazing. That was until one silly squirrel that had obviously stayed out too late went scampering right in front me making all kinds of racket. Silly guy!
Finally I thought it was dark enough to give it a try. After figuring out the best exposure time I was not disappointed!
Looking towards the west there was still a smidgen of light from the sun that gave a different experience. I was trying to capture the big dipper just in the trees. Being new at this I had no idea it would be overwhelmed by all the stars my camera was able to capture...
After some more experimentation I decided to head down to the lake shore to see if I could get a shot of the Milky Way to the south. Oh my!
At this point I had forgotten all about being all alone. I was so enthralled with what I had been able to capture. I moved around to the north end of the lake and tried for some refection shots over the lake. Oh my heck! I was so amazed!
I probably spent an entire hour experimenting. It was amazing. But now to bed.
I had a hard time falling asleep for some reason. I think I finally fell deep asleep around 2am only to be awakened by the smell of smoke which triggered my internal smoke alarm somewhere around 3am. I figured it was just the wind had shifted and the smoke from the East Fork fire north of Rock Creek Reservoir had come my way. Figuring that was the case I fell back to sleep.
Sunday morning came and I packed up to head back to the trailhead. I decided that I would make a loop out of my return, hoping to see Cutthroat and Hayden Lakes. I wasn't sure my knee would cooperate but I couldn't resist seeing new territory so I said good bye to Teal Lake...
After an initial steep climb up from Teal on the south end of the lake things leveled out a bit. There was a nice little pond about half way to Cutthroat Lake...
I stopped to take a short break at Cutthroat Lake. I noticed the nearby pass. Checking the map it turned out to be the pass above Kamas Lake and the Lofty Lake Trail. I was reminiscing about a late season snowshoe trip I had taken up that very trail but was turned back due to hip-deep snow. Mt Marsell is to the right of the pass...
Leaving Cutthroat I soon discovered the trail I was following took me back eastward along the south side of Jewel Lake. Hrm... that wasn't taking me in the direction of Hayden Lake. I ended up climbing up through the boulder field with which I had been concerned. There was a steep path to follow but turned out to be no boulder hopping as I had feared. This was good for my complaining knee.
Leaving the Jewel Lake area the trail quickly swung to the south seemingly toward Hayden Lake. Looks like I just might make it to Hayden as well. Just a bit further past another nice pond I topped a small ridge and Hayden Lake appeared.
A view from the north end of the lake...
I found a trail heading to the east and soon popped out in a familiar place; the huge rock slabs above Ruth Lake that take you to the Lofty Lake Trail...
Dropping down to Ruth Lake turned out to be a bit of challenge. Even though there were multiple cairns I managed to find a less than desirable route encumbered by dead fall. I picked my way through and ended up back on the main Ruth Lake Trail.
A very picturesque pond just below Ruth Lake...
Back at the truck I checked my mileage on my inReach. It showed 7.7 miles for the round trip. Despite my angry knee, the trip was a great success.
Since there are no signs or managed trails to the multiple lakes in the area travel can be a bit challenging. However, the lakes are not very far apart. With GPS you can basically aim for the next lake and go. You could get lucky and find a path. Cross country travel is not terribly challenging but you might have to negotiate around cliffs and dead fall. The area provides a surprising wilderness experience despite being so close to the Mirror Lake Highway. Going to have to do it again!
Last edited: