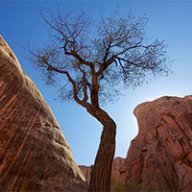 Joined

Aug 9, 2007
Messages

12,658
A strange word for a beautiful phenomenon. Some may not know it by that name, but according to
Wikipedia
, tafoni is:
Tafoni (singular: tafone) are small cave-like features found in granular rock such as sandstone, granite, and sandy-limestone with rounded entrances and smooth concave walls, often connected, adjacent, and/or networked. They often occur in groups that can riddle a hillside, cliff, or other rock formation. They can be found in all climate types, but are most abundant in intertidal areas and semi-arid and arid deserts. Currently favored explanations controlling their formation include salt weathering, differential cementation, structural variation in permeability, wetting-drying, and freezing-thawing cycles, variability in lithology, case hardening and core softening, and/or micro-climate changes and variation (i.e. moisture availability). Tafoni have also been called fretting, stonelace, stone lattice, honeycomb weathering, and alveolar weathering.
https://en.wikipedia.org/wiki/Tafoni
Another interesting resource:
http://www.tafoni.com/
So let's see your tafoni shots!
This is from just a few days ago in Wiregrass Canyon. A beautiful tafoni wall in a very interesting white section of the canyon.
And on the other end of the color scale, some tafoni in Wolverine Canyon in the deep red wingate layer.
Really big wingate tafoni!